Deja vu? After 2 weeks of near constant rain it seemed the Scottish summer was over in Chamonix. One day of sun meant the trails were dry (mostly) and spirits were high (mostly). It also meant everyone had headed out to enjoy the trails.
Eager to ride some fast downhill trails, preferably with well build berms, a trip out of the valley was called for, and where better than Pila?
Turned out plenty of other folk had a similar idea and the queue for the Mont Blanc tunnel was backed up at least 60 minutes, so we headed to Champex Lac instead…..
……I'm starting to think Pila is not for me this summer, and with Meteo France apparently declaring July the dreichest in over 50 years I'm also wondering if summer is not for us this summer.
Anyway, as going somewhere new and little known generally works out, we headed off to Champex Lac in Switzerland. The lift is best known in summer as an access point to the Trient plateau which is used by many guides as acclimatization for parties hoping to climb Mont Blanc. In winter it's either a tiny family ski area or one of the best tree skiing powder areas going (though shh, it's a secret) depending on your outlook. We were hoping the mountain biking was going to be a similar epiphany to the skiing.
It wasn't.
After paying our 25chf for the lift pass and worrying about the unpadded chairlift battering the bikes we headed up the 700m to the top at 2194m.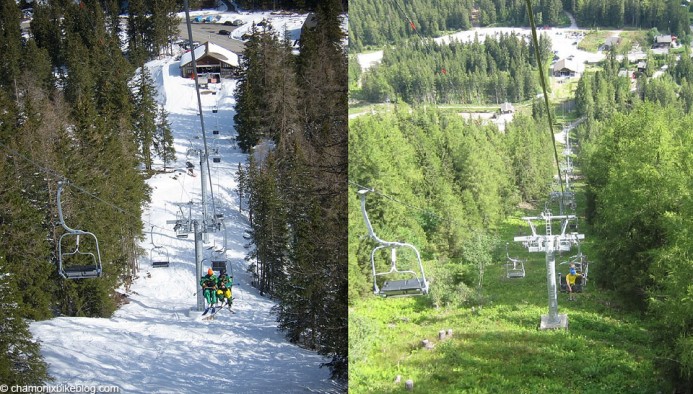 There are 4 promising looking trails on the map, we started out with the dashed line running under the second, smaller, chairlift line. It started out tech and didn't let up. Once you start pushing down sections the fight goes out of you and it's easier to just keep pushing, so we pushed a lot of the line.
Towards the bottom of the hill the riding got better, which was the most frustrating thing about the day, when the riding was good, it was really, really good. It's just the bits inbetween were really, really not.
In winter on of the best ways to ride Champex is to head along the long traversing green piste then drop into the trees when it looks about right. We tried this for the next 2 laps.
The ratio of riding to swearing was improved, but inbetween the excellent sections it was still either super tech or fireroad. Fortunately the best section of trail was from the refuge low down on the hill and common to all the ways down meaning we always got good trails to finish on.
Feeling fairly disparaged we went up for a final lap on the south eastern aspect of the hill. This trail saved the day for me, but apparently my tastes in technical trails and exposure are not normal, so whilst we all agreed it was the best trail, there was some disagreement on just how good it was.
Either way, starting up high above the trees with some nice narrow straights leading into a long switchback section down a couloir (which saw both Ally & I take accidental shortcuts, Ally's resulting in him headbutting a fairly pointy rock) it then wound it's way down through the trees getting gradually more open and flowing as it went. Finally we reached some fast and (relatively) flat tracks with a beautiful layer of loam that brought us down to join the Tour du Mont Blanc and the pedal back into Champex Lac.
There was still plenty of time for some more laps, but we were over it. If we'd known that there were some easy flowy trails to hit then we'd have headed up for more, but there's only so much riding you can do at the edge of your ability before it starts to get a bit tiring mentally and physically.
In summary, Champex Lac; not worth the effort, but feel free to go and prove me wrong as every penny spent there helps keep the lift turning in winter.
Cheers to Lorne Cameron for many photos, summer and winter.