Big fan of the Loriaz ride, fairly easy up, great views, few people and an excellent descent. Hard to fault really.
But it's easy to get complacent about these things, it's good to mix it up a bit. What if Neo had chosen the blue pill?
So, after a run in with the SNCF's grumpiest conductor who wouldn't let 1/2 the cyclists at Chamonix central onto the train and a little over 60 minutes of climbing Lorne and I stood ready at the Croix de Loriaz ready to eschew the truth of the red pill/normal Loriaz trail and explore the illusion of the blue/turning right onto the other way down the hill.
In truth, we both kinda knew where we were going, having been up the trail several times in the winter on ski touring missions. But then, things generally look a bit different with a couple foot of snow on them and this was particularly evident above the tree line where the trail snaking through the undergrowth was strewn with boulders.
Far from unridable, but tricky to master with any flow.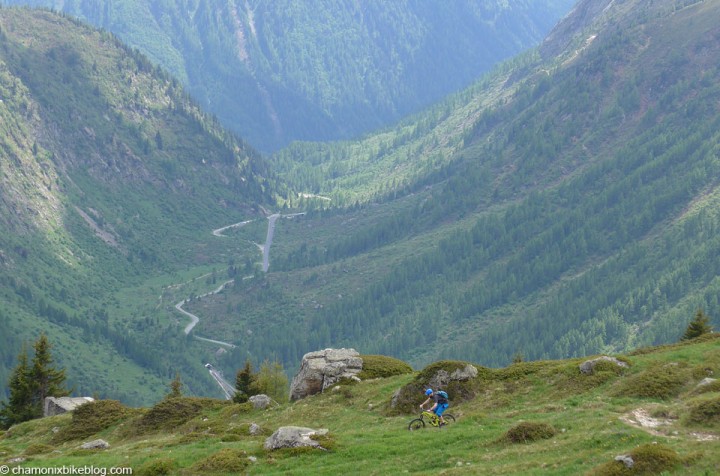 From the tree line down things were much more agreeable, unsurprisingly pretty similar to the normal Loriaz descent. Not better mind, but still a fun trail.
The main reason for never giving the trail a go before is that it spits you out onto the ascent track about 40% of the way up, and no one want to coast down the same fireroad they sweated up.
Fortunately there's a selection of trails that mean you only need to ride a few hundred metres on 4×4 track, so no great loss. Choosing the line signposted to Le Nant for no reason other than it went in the opposite direction to the road we continued down.
I know you shouldn't anthropomorphise animals let alone trails, but this section of trail did have slightly schizophrenic tendencies. Lulling you into a false sense of security with swooping single track you'd attack a bend behind a rock only to discover hidden rock gardens or off camber roots. Alternatively an innocuous 90 degree bend would suddenly plunge you straight down the hill through rubble.
Still, all good fun.
Popping back out on the road half way twixt Vallorcine and Buet we considered a re-match with the conductor, but instead pedalled up over the col and cruised down a selection of valley trails back to Chamonix.
Which is better then, reality or illusion? The original trail I'd say, but there's no harm in a bit of a change every now and then.