This week it has mostly been autumn.
Autumn is not a bad thing per se, the trees go a pretty colour for example. Holiday season is over so the hills are quiet. Everyone's jobs dry up along with the tourists so we have more time to ride. These are all good things (except when rent/chainreactioncycles still needs paid)
No, the problem is it gets cold and the lifts are closing. You want to make the most of each lift before it shuts, but there are only so many good weather days to do it on. You want to make the most of each lift before it shuts, but lots of the bestest rides take most of the day so you don't get much use out of the lift.
Autumn also means better light for photos, even when overcast and snowing, so it's a picture heavy post y'all. Which is good news, as all you ever do is read the opening paragraph then look at the images. Skimming over the words too quickly to notice the spulling mistakes and insults.
Anyway, preamble done, I need to cunningly tie in the title with some words that both describe the ride and make it seem like I thought about this, all in the hope some editor will read it and offer obscene amounts of money and free bikes in exchange for a few thousand words a month.
The joy of sex. A '70's book telling people how to have sex. With beards. The full stop proving the importance of punctuation. You'd think the continued existence of humans would suggest that we'd managed it already (then again, if the ruling classes canny work out what species to interact with, maybe more education is needed), and that if you're curious enough to buy a book with that title, you're probably curious enough to work out how to have good sex. The book went on to sell big.
The joy of Sixt. A hastily thought up title for a blog post about riding from Chamonix to Sixt along a couple of trails which we'd been told were really really good. A blog title that initially sounded good but the further I get into trying to write something around it, the more I'm regretting being a smart arse.
I could try something along the lines of….."In mountain biking the whole technique improvement thing is getting big. There's plenty of coaches out there keen to help you improve your riding technique, or sell you a video or app. Or you could just watch it for free on the internet…"
But frankly it's too much like hard work to draw parallels between a bike ride and a 40 year old sex manual, here's the usual dull we-rode-here-then-there-then-finished-and-it-was-good overly wordy copy, with this many pictures I need lots of words to fill the gaps.
On a forecast of 55% sunshine and no precipitation, we head up the lift from Chamonix to Plan Praz in the drizzle. Today was going to be minimal lift, maximum distance riding.
We'd all heard stories of an epic descent from Col d'Anterne to Sixt and figured the only way to verify its quality is to actually go and do it.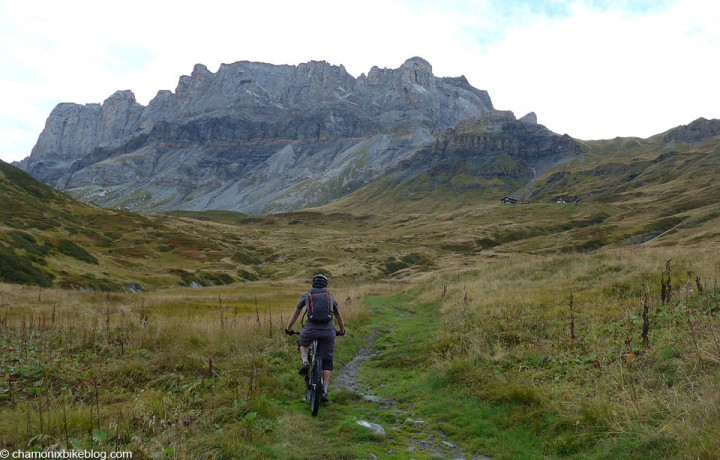 The Col du Brevent doesn't arrive easily, but it arrives more easily going up from Plan Praz than it does heading down from the top station of Brevent. Or at least, it seems less disappointing to push and carry uphill than it does to push and carry downhill.
From the col the trail is initially moonscape, then a bit rubbish for a few hundred meters (we pushed about as much as we rode) then it's fairly good for ages. It would be even better in the dry, but it wasn't dry so we had the added fun of rock slab skating rinks.
First down done, we go up to the Refuge Moede Anterne. A sentence that's pretty easy to write. The push was less so, but not that bad. A water tap and picnic tables in the gloom served for lunch. You could probably go inside and order some food, but see second paragraph above.
Refuge Moede Anterne to Col d'Anterne. Looks bad, but the signpost claims 45mins so you should be quicker. Sure enough we took half that.
Things look a lot better from the top. If you look left then they look like the Dolomites with towering limestone cliffs. If you look right then they look Scottish, with lochans nestled between rolling green hills. Even the weather got in on the split personality act with blue skies and a biting cold wind.
I mentioned it was autumn didn't I?
It's a pretty good descent from here. Not top 10 perhaps, but still pretty good. Big open sections with multiple lines then narrow technical singletrack through boulders and a nice wee flat bit alongside the lake to break it up. Only one short section directly above the Refuge Alfred Wills beat all three of us from riding cleanly.
After the refuge there's a wee bit more fun on rolling singletrack across the empty open expanses. This open stuff is a bit of a change for us Chamonix valley dwellers, you really don't get anything flat for several hundred meters without a house being built on it.
Another short climb and it's on to the third descent of the day. It starts innocuously enough with a cow trodden path tapering muddily into a rocky gully, but picks up quickly into more steepish, rocky singletrack. Again not top ten, but fun enough. Eventually the trail opens up a bit and the speeds creep up, well, jump up considerably.
Then it ends in a carpark.
We thought we'd be clever here and take a wee path marked "Cascade Rouget" left off the carpark.
Don't. I'm not saying that in a "Don't, but really I mean do, it's amazing" way. I mean just don't. It's partly unrideable but not in a challenging way,just in a climbing down roots above a river way, and partly a bit dull. And partly not very clear where to go.
After Lorne drew the short straw and not only guinea pigged the knee deep river crossing right from the end of the trail, but also the unridable hunters trail climb to the left, he turned round and went back to the road. Sandy & I persevered with the uninspiring looking track in front and eventually landed back on the road after some interesting down climbing.
Turns out if you just stick to the road then there's a series of cut throughs that keep you on the dirt and moving just a bit faster than we'd been.
From the Cascade Rouget (which is a fine cascade, but a bit outclassed by some of the others kicking about the valley) there's more road/cut though/road/cut through riding but nothing that inspiring and boom, you're on the valley floor rolling along the tarmac into Sixt.
Do I sound a bit disappointed? I was. It wasn't a bad ride, far from it, and looking back through the photos I realise just how much good riding and scenery there was. I think we'd got too many high expectations of it, built it up too much and suffered from the last sections being nothing like the quality of the trails higher up. And I guess our local standard is pretty high.
If you've got a Grand Massif lift pass, a better day out would be up the Samoens lift, down to Flaine, up to the top there, then a huge descent down past the Chalets du Plate, across to Plaine Joux, then a wee bit of a climb to join our route and back to Sixt then Samoens in time for tea and medals. But we don't have said pass, and even if we did the lifts are closed, and if the lifts were open we'd probably just piss about under the GMC lift in Samoens. So meh.
Thank assorted Hindu deities there's nowhere near that rhymes with 'Sutra'.