Dinnay fret, I've not gone full buzzfeed, just written too many replies to emails* asking "what're the best bike descents in Chamonix" and figured if I write it here then a link will do the job.
That and I've been riding a lot of these trails recently but taking no photos and kinda wanted to share how good the trails are with folks.
Hence, in no particular order, here's nine of the best descents in and around Chamonix plus a sandbag just to keep y'all on your toes. Obviously I've missed out my favourite line and a couple that are seeing enough traffic already.
It also turns out that I've not actually written about all these lines, so the links might just cover half the trail. Get a copy of the Chamonix Bike Book and/or the IGN map though, you'll work it out. What's the worst that could happen, etc….
Aguillete des Houches to Merlet
Bit of a double whammy this one, not only is there the descent of the Aig des Houches, but you also then get the Merlet (or Animal Park as it's sometimes kent) trail too, and without the effort of pedalling up the Merlet road. Winner winner chicken dinner.
Vallorcine DH track
Totally unmaintained, unloved, unknown and awesome. One of the best DH race tracks I've ridden. The bigger features have fallen into disrepair a bit of late but the lower half is raw as, and all the better for it. Unmaintained is not quite true either as there's been some good work done on it this year. And I love it so that kinda knocks the rest of the opening line too.
Nid d'Agile to Champel via Col du Tricot
Some of these descents come easy, others a bit less so. This one (two really) is in the less so category. Still, only 900m of climbing for 2200m of descent. The first descent is in fairly full on mountain biking territory, you're passing folk resplendent in mountaineering gear ready for a jaunt up Mont Blanc, and there some huge exposure and the odd ladder to down climb. Well mint descent though. The second down is still out in big scenery, but this time much more flowy with 2+km of sinuous singletrack contouring along the hillside.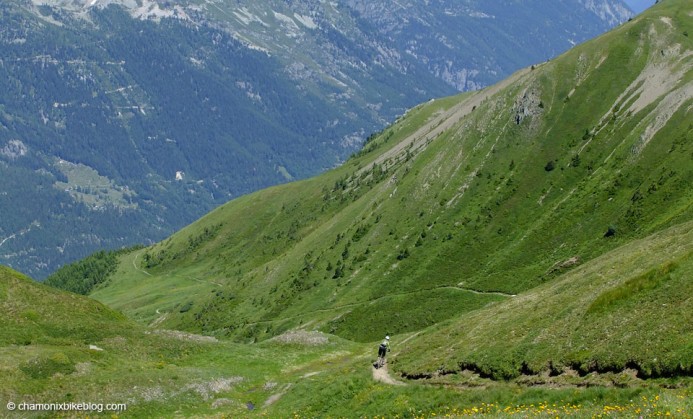 Col du Balme to Trient
Total Chamonix classic, despite being totally in Switzerland. Big open alpine views singletrack at the top then tighter and rockier when you get into the the trees lower down. Probably the easiest of the ten lines here.
Col de Balme to Chatelard
Better than the descent to Trient? Almost exactly the same amount of pedalling back up to Vallorcine (it's only 15mins at an easy spin, no, you don't need to take the train) as the descent to Trient but it feels much closer. Less flow and more tech than the Trient line lower down, but the upper singletrack through the alpages is what photographers' dreams are made of (if they can be bothered getting far enough away from the trail for the shot). And yeah, I know the link isn't actually for all of this descent, but it covers about half of it and I'd not realised I'd not written anything about it before. No one's perfect.
Loriaz
The best evening ride in the world? Take the train over to Buet, pedal your way up to the Loriaz chalets, sit and watch the view for a while, there's no rush, then enjoy one of the best "easier" natural trails in the alps. From Vallorcine you can either sit in the station cafe for a bit then get the train over the col to enjoy the ride back into Chamonix, or just pedal up. It was one of my first rides when I moved to Chamonix (cheers Spence) and through it I've met some amazing friends and had some amazing times.
Bellachat trails via Sentier Des Guards and the Brevent couloir
The hillside below the Brevent and Flegere lifts is covered in steep singletrack. It's also covered in families out walking and off limits in July and August. The riding's great, but you need to be early or late to really enjoy it without constantly stopping to let folk pass or chat. Sentier Des Guards is a bit further out the way and much less travelled, so it gets the pick here. Obviously you need to start from the high entrance about 100m above the Plan Praz station rather than the 4×4 track, anything else is cheating…..
Plan de l'Aguille
Normally the best areas for skiing are the worst for bikes, and vice versa. Below the Telepherique Aig di Midi is the exception to this rule. Of course, the skiing is easier as you can use the lift. If you want to ride the trail it's 1300m of climbing, most of it carrying or pushing the bike. Good descent mind. Climbing up by the Pre de rocher side and descending via le Grande Foret is the more interesting loop.
Chalets du Souey
Early and late season ride usually this one, either waiting for the snow to melt high enough or hoping it's not settled too low. It's also a good trail for when I'm pining a bit for Scotland, the easy but long pedal up on tarmac and forestry road followed by tight trees, rain runneled gullies, root mazes and the odd well built bit of walking trail is a lot of what I miss. That and I'm usually riding there in the rain.
Le Prarion Summit to Les Bouchards
It doesn't matter how good you are, there's always something too hard for you, something that you know you need to get better for. This is mine. I might never be able to ride the full trail, but the challenge is always there and I'm pretty sure it's possible. If there's a more tech trail in the valley (that doesn't have ladders or a glacier in the way) please let me know.
*I hardly ever check the emails, so if you've got a question and want an answer in the same month, ask it on an instagram picture and I'll get back to you quick-sharp. Or in a week at least.