Summer's here. Skies are blue, temps are high, taps aff etc.
Eager to enjoy the weather before it turns (another side effect of being Scottish, you can never, never learn to trust the weather to stay good) Spence and I headed out for an easy(ish…) day to check out a new trail and see where the snow level had got to.
I try to avoid the lift accessed trails when the lifts aren't running (seven days till they open) in favour of more esoteric trails so I've spent a lot of the last month riding above Servoz. Today was no different and we started a long and relaxed climb from Servoz to the Le Mont carpark. Then Lac Vert. Then Gite Le Chatelet. Then the Chalets du Souay.
The climb is never difficult and just keeps plodding on, but it's hard to plod when you're a) not that fit and, b) run a 36 tooth chainring. Spence on the other hand is testing out a Oneup components 42 tooth sprocket which, combined with his 30 tooth chainring, meant I spent a lot of time watching him disappear, and he spent a lot of time waiting for me.
Still, the views are outstanding and the weather good for topping up the sunburn/tan so neither of us were too rushed and arrived a relaxed 2hr 20mins after setting off at the Refuge Moede Anterne, a good 1200m above our start.
After a customary break for food, drink and reflection we got on with the main reason we were here. To go back to the start again. Ain't biking just pointless eh?
We started on an awesome bit of ridgetop singletrack which saw us flee down from the refuge to the first small climb aaaaaaaaaaaaaaaand snow.
We'd thought there might still be a wee bit hanging about, and sure enough, there was. Nothing compared to the amounts of last season fortunately but still enough to force us from the bikes a couple of times and cause our brakes to howl like banshees being metaphorised.
The next section down to, then contouring with, the Souay river we'd checked out from the opposite side of the valley, and it was pretty good too. A mix of bright orange dirt singletrack and just the right side of super tech rock sections. At least, they were just the right side until I got a bit gallus and pinged off the bike and both me and bike bounced through a pile of rocks. Somehow this only resulted in a wee hole in my rear tyre.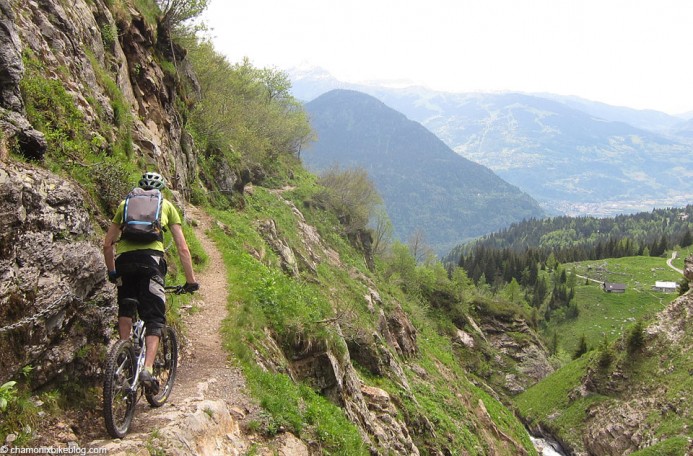 Stan's tubeless gunk is great stuff though and a spin of the wheel and 5 minutes straightening bars and putting air back in the tyre saw the bike good again. I was less convinced though and, having managed to escape breaking the bike once, was keen not to watch it bounce through sharp pointy boulders again so took things a touch easier.
Unfortunately the trail then started to get very tech, with in-situ chains and iron steps. Progress and flow slowed for a km or so.
Once passed, we were back on it and the fun continued down to the junction with one of our favourite trails in the area. To save me the effort of describing it again, you can read all about an earlier ride on it here.
Instead, I'll just let the photos do the talking (err, again, that's the cop out I used last time I wrote about it.) with the caveat that it's much more fun to ride than photo and as we're not getting paid for this, you can just have the average photos.
Cold beer time.