Average sounds, well, average. Not good, not bad, but not anything memorable. Mediocre even. With hundreds of kilometres of the world's best trails on the doorstep the 'average' bar sits pretty high around Chamonix.
Searching as ever for good, or at least above average, trails we headed out of town and round the corner to Les Contamines. It's only 15km away in a straight line, but about 30 minutes in a car on account of there being some 4000m high lumps of rock and ice in the way.
The same lumps of rock and ice made a great back drop as we sweated our way up from Les Hoches (not to be confused with Les Houches…) towards Le Plan de la Croix in the sun. Fortunately some clouds came in along with a light breeze so the 700m of spinning up the tarmac and gravel roads went in a fairly easy going hour. So far so good, at least as far as it can for gaining height on a bike.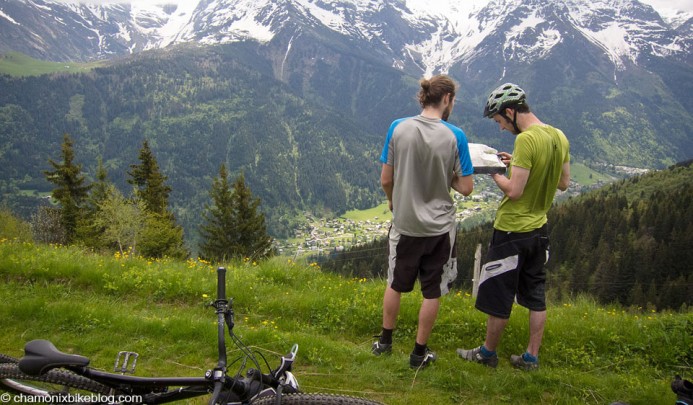 Alas the cloud didn't then do the honourable thing and bugger off again once we reached the top of the climb at the Porcherey gite, so greybird it was for the down. At least the trail, once we'd picked which one to follow, looked good, both on the map and infront of us.
Starting through a field on a grassy bobsleigh run before dropping into the trees for some fast and loose corners, all with a banking to catch you if you got too enthusiastic.
It was starting to look like yet another above average trail, when the singletrack ended and we hit a trail you could (just about) get a 4×4 up. Still fast and fun, but not quite the same. With a few washed out sections making the trail more interesting it continued for the next ½ of the descent until we hit the road at Le Carteyron
A dashed line on the map perked us back up with more entertaining singletrack hairpinning the rest of the way down the hill to the car, but not enough to save the trail from being damned with the dreaded 'OK'.
Despite this, it was good enough for us to talk of a return trip to test out some of the other options on the map in the hope of finding a more consistent descent.
Which just reminds us how lucky we are to get to ride here day in day out, when 700m of easily accessed fun downhill is just average.
Here's to mediocrity.