I like tea me. There are few things in life better than a cup of tea, but even better are those 10% of cups of tea that just push up to the next level of tea. Awesome.
I like riding bikes me. There are few things…. And this ride was one of those 10%. It's not as if the average ever drops that low about here, but that combination of some of the best of a good crop of trails, perfect weather, dry ground but only a couple days after a good soaking and a bunch of mates to share it with. Awesome.
It started with the potential to go either way, meeting for the 0925 bike bus up to Le Tour. When they work well the bike bus is amazing, but when the driver seems more keen to load it up with walkers than riders, leaving you at the bus stop, or the UCPA gets there first with 20 odd stormtrooping pupils and you can't fit your bike in, not so good. Today, it all went smoothly and we were on the lifts for 10.
Looking down from the Autannes Chairlift you could see the new section of trail built into the upper VTT trail. It looks pretty good too, but we had plans on the bigger descents into Switzerland and, as the Vallorcine gondola closes between 1230 and 1345, there was a schedule to keep to.
Unsure if we'd be quick enough on a full Trient lap, we started up with a shorter lap from the Col de Balme to the Catogne chalets and down to Vallorcine. Of course when I say shorter, you still get 1000m vert over 9km of the finest riding in the alps. Alpine pasture, dusty singletrack hugging the side of gorges, some fast fireroad to drift about on and a finish down rock rooty singletrack through pine forests with that dappled light that makes it so infuriating to photograph!
Some time, and much amusement, later, we're getting back onto the Vallorcine gondola. A short pedal over the Col des Posettes and a blast across the hill and we re-set on the Autannes chair. This time though at the Refuge de Balme we stay in Switzerland and head up towards L'Arolette. There's still a few patches of snow to negotiate round the back here, no apparently the hill doesn't know it's August, but they're all pretty easy to cross. Except for Luke…
We reached the col by hot o'clock, so stopped to drink water, eat a bit and shoot the breeze. Sated, we dropped into the descent across the bowl. You can see 90% of the trail snaking across the hillside here. The bit you couldn't see turned out to be another patch of snow across the steepest and rockiest section of the mountain. Everyone stopped in time.
From here the trail just keeps giving. There are better natural trails out there, but not many. Like the Catogne descent that it runs near to there's every sort of riding covered on your way down. Well, every good sort; I didn't notice any tussocky grass, brake bumps, motocrosser ruts etc.
Eventually we cruised sweaty and dusty into Trient, another 1000m lower and immeasurably higher. Even better, the trail ends but 20m from a(n ice cold) water fountain. Less good was the switch from trail to road for the next wee while, but even that wasn't too bad. A fast blast downhill to nearly the border then a 20 minute or so pedal up hill to Vallorcine, with the baking hot sun cooking you from above.
Once again we head up the Vallorcine gondola, up to the col and across the mountain, but this time we keep heading down on the ever excellent lower Le Tour DH track. The construction of the new upper section's obviously taken a fair bit of the shapers time as the trail was running quite loose, you can complain, or you can get on with it and learn to drift. Or your bike can have a tantrum like Ally's did. It started with a quick stop to fix a puncture (not mine for once, and the only one of the day). Then the fixed wheel couldn't go back in the frame. Closer inspection revealed that the disk brake return springs were performing more of a braking duty than the pads. Undeterred by the lack of material, Ally affected repairs, and we got going again, headed for Petite Balcon Nord.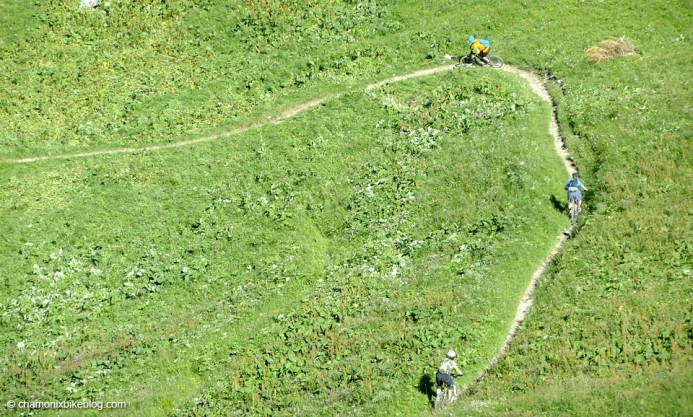 PBN doesn't get ridden at this end of the valley anything like as much as it does lower down, which is strange as it's my new favourite section of the petite balcons. Not going to complain mind, we all had a blast down to Argentiere and the Grand Montets lift.
Josh had to keep going for home here, so it was only 5 of us that boarded, probably just as well given how grumpy the other passengers were at our presence, ho hum. Another quick break to drink and eat and we were off on the last descent of the day into the Lavancher bowl and then on to Le Bois. This is another anomaly of the Chamonix bike ban, being a totally natural trail, fairly tech in places, reasonably popular with walkers, and yet we're encouraged to use it. Not going to complain mind, it's a grand way down the hill. Once in the trees the light was useless for taking photos, so the camera afflicted amongst us were able to just keep going and going and going, as was everyone else having been freed from "wait there a second" "ok, ride now" "can you go up again, I missed it"…. Though the flip side is that it's a very long way down and you better have strong fore arms if your brake fingers are going to survive.
Eventually, 5 riders rolled into Le Bois and collapsed by the water fountain. These granite and wood vats of ice cold drinking water are up there with tea and bikes in my "things that are great" list, and the Le Bois one is definitely in the upper 10%, especially on a day like this.
Sunshine, friends and over 4km vertical of dusty alpine descending. Awesome.