After a spring of moaning about the cold and snow, the sun's come out and it's got dry and hot. So instead now everyone's moaning about it being too hot and dry. On the plus side, the +30 degree temps, blazing sunshine and a bit of warm rain has put a fair dent in the snowpack and things are starting to get a bit easier to ride up high.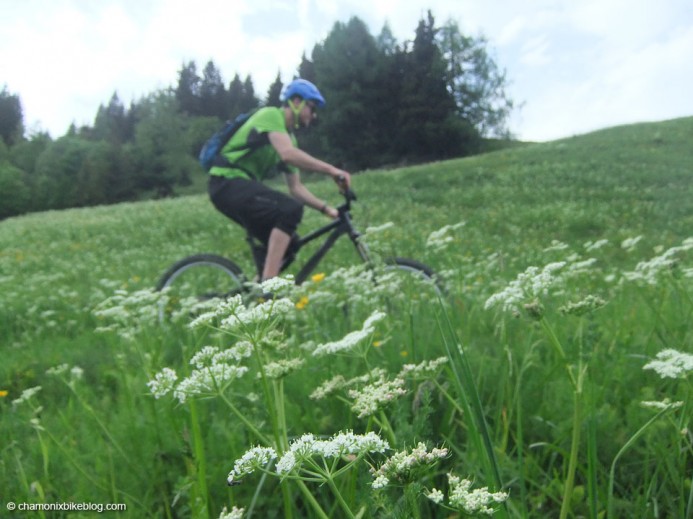 Conveniently most of the valley's lifts have opened for the summer season now, which has saved us from having to actually exercise in the heat, instead we can just enjoy a sauna for 5 minutes then cruise down the hill.
This seems like as good a place as any to try and clarify what's happening with the lifts and bikes in the valley this summer. After all manner of rumours that bikes will only be allowed on this, that and the other lift, official word from Compagnie du Mont Blanc is:
Mountain bikes will be allowed on ALL lifts other that Montenvers, Aiguille du Midi, Index chairlift and the upper stage of Grand Montets. So far so good, but there's a twist (or 2)….. First, at the Tramway du Mont-Blanc, bikes are only authorised on the first and last tram of the day during low season, and first and last 3 trams during July & August (and at other times if there's space and you're nice to the lift staff). Second, the old "Cham'sport" lift pass is no more, replaced with the 17euro "bike pass", which sounds great, but unfortunately this pass only gives you access to the Charamillon & Autannes lifts at Le Tour (ie, the front 2 lifts, NOT Vallorcine) and the Prarion lift at Les Houches (ie, NOT Bellevue, which is closed due to fire damage anyway, and the Tramway du Mont Blanc) and nowhere else. If you want to ride any of Brevent, Flegere, back of Les Houches, Grand Montets, you'll have to stump up for the Mont-Blanc Multipass at 54euro. Or live here and have a season pass. Or push. Your choice.
In better news, it looks like the railway is actually going to open on the 29th of June, it's been announced on the local radio and everything, so fingers crossed that evening riding is about to get a lot easier, as well as getting back from the various routes off Le Tour and Les Houches.
Enough of the future, what of the now? This week we've been mostly riding the lifts, Les Houches, Brevent & Flegere. The trails are still fairly quiet and there're not too many walkers around so it's been good to make the most of it, ride some classics and do a wee bit of exploring. The photo's can do the talking though.
Get out there and make the most of it before the bike ban kicks in at the end of the month!