End of summer? Ok so it might be the end of meteorological autumn, but outside it's double digit temperatures, with a warm drying wind rolling over from the south, so for us lot, it feels more like the end of summer.
And what do we do in summer? Ride bikes.
The Loriaz chalet loop is one of the first of the higher trails we ride each year, it's altitude and aspect ensuring snow free trails that bit sooner than other points around the valley. That and the only way up is under your own steam, so there's no point putting it off 'till the lifts turn or the road officially opens for some lazy shuttling.
If it comes into condition early in the spring for riding, it also comes into ski touring condition early in the winter so it was a bit of a novelty to be spinning up the fire road on the last days of November for a lap of one of the more varied descents about here.
There's still a bit of snow near the top, but nothing that needed anything more than stopping to throw snowballs at Sandy. With no real fresh snow on the horizon for below 2000m then if you've never ridden the trail (and you've not quit biking to drink/ski all winter)  g'wan get yourself up there.
Spence and I have ridden the trail umpteen times over the years, but this was Sandy's virgin ride. It's always good to show a new trail to someone, keeps the stoke high. Not that that's hard on the Loriaz descent. There genuinely is a bit of everything on the way down, from the Chamonix staples of hairpins, death exposure and techy steep rocks and roots to the lesser seen open corners, bends of between 10 and 120 degrees, open singletrack, deciduous trees, leaves. Grand.
Another bonus was "orange pow". A thick layer of pine needles coating sections of the trail which both encouraged drifting like another BC bro edit and leaving a trace of where you went (or went wrong….) for the rider behind you.
Eventually though all good things come to an end and so 750m below the top we get spat out into Vallorcine for the spin back home.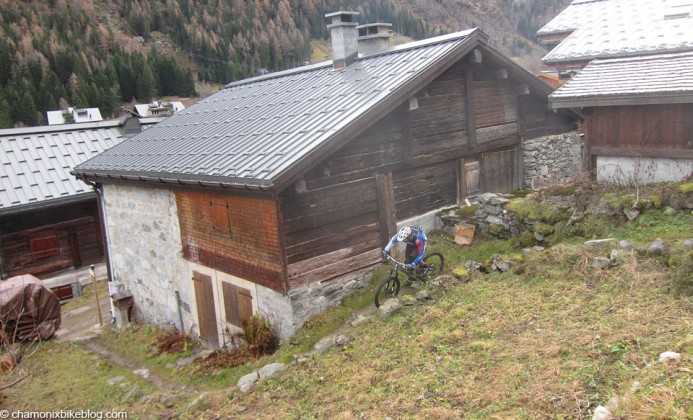 Last big ride of the summer? No idea, the title was really just an excuse to put a link to the best thing to come out of Falkirk since the Romans.