A long time ago in a galaxy (small highland town) far,
far away….
The first copy of "Dirt the downhill mountain bike magazine" arrived, some time later than it did in the rest of the UK as that's generally what happens when you live in the north of the UK. For a bunch of kids who were doing a mix of BMX and motocross on bikes totally unsuited to the job at hand, and definitely not wearing lycra, it was a revelation that there were actually other people like us. All over the place.
Obviously we all started buying Dirt.
Several issues in (canny mind how far in, it's not important anyway) there was an article about a bunch of riders deciding that the southern English DH races were shite (and they were back then) so piled in a van and drove to Pila to race a round of the Italian series.
That seems pretty reasonable now, but back then it was unheard of. If you were the best of the best at DH then obviously you spent much of the summer driving about the alps to race the Grundigs (and get drunk and smash stuff like a true Brit abroad), but the idea that as a normal rider you could just head off and ride this amazing terrain straight off a lift (this was before the Nevis Range DH was accessed by the lift, you still had to push up) was a revelation.
But there was more to it than that. There was the idea that bikes, DH bikes, weren't just something you did at the weekend or as a kid, but a lifestyle like skiing or climbing. I'd always known that getting out the country and heading to the mountains for the winter was a perfectly sensible thing to do, now I'd had the epiphany that you could do that for the summer too.
A lot has changed since then. My #enduro bike is years ahead of any DH bike of that time, Dirt has just ceased publication. I now spend most of my summer riding some of the best trails in the world as and when I want to.
And now I've finally gone to Pila.
It was a long time coming, year after year I would be planning to go only to get injured, break the bike or, most frequently, the Mont Blanc tunnel be too busy. The blog's even made it there before I did. But finally, I've made the 40 kilometre drive from Chamonix and caught the closing day of the 2015 Pila summer.
For 7 short hours Lorne, Sandy and I lapped and lapped and lapped the bike park, both the shorter (500m descent) upper chairlift accessed main park and the lower (1150m descent) home runs. We even failed to stop for coffee during the day which, for a trip to ride in Italy, is probably a first (and the only low point of the day).
I'm not going to describe the trails, it's boring to write and worse to read, and Lorne did a good enough job after his first visit. Also we never really knew what trail we were on they all cross so much. But…I will make mention of the IXS DH track as it's without doubt the hardest 'official' bike trail I've ridden if you stick to the quick lines, and probably even if you don't.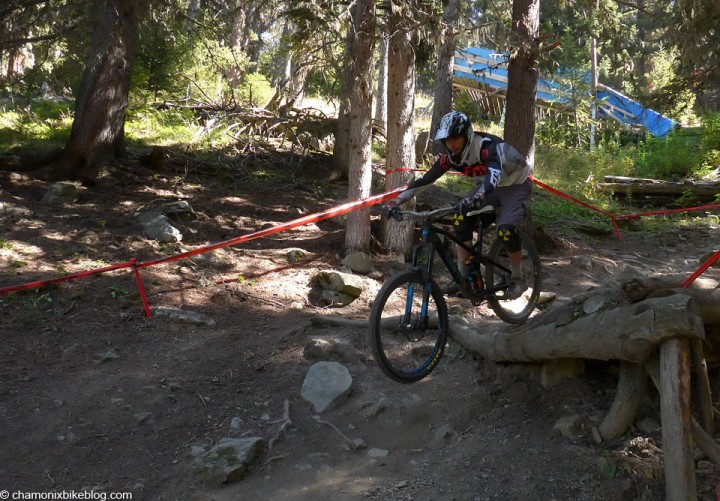 I've new found respect for the strength of DH rims and tyres, absolutely nae idea how you can land in some of the rock gardens at any speed without writing off the wheels. Pretty much anywhere else something that hard would be closed most of the time, but if it's not hard how can you progress? Talking of which, was pretty cool to see so many weans out on the trail and riding fast. Though what do you aspire to when this is your local hill?
Anyway, thanks Dirt for opening my eyes to another life all those years ago, I'm off to price DH bikes.