Saleve is not that well known for it's biking, but on the off chance you meet someone who's ridden there one of the things they'll tell you is it's a bad choice in the wet. Slick and slippy mud coating roots and smooth limestone with steep gradients to maximise your travel from the trail and bike if/when you fall.
It's wet just now, but Sandy and I figured it couldn't be more wet than Chamonix where May started with the average monthly rainfall dropping on the 1st, then the 2nd and 3rd not being much drier. As a result of the sky falling, the mountains started falling. Huge wet snow slides coming off the Chamonix Aiguilles reached as far as the valley floor, and rockslides on the Aiguille Rouge side did the same. Lots of trails cross under these avalanche corridors, so the Petit Balcons Nord and Sud, and anything above them, have been closed by the Mairie until further notice.
Which doesn't leave many options to ride a bike.
So we went to Saleve.
Unsurprisingly, with the cloud level being about 1/3 the height of the hill and the rain still falling lightly, there weren't many other people waiting for the telepherique. The first lap was down the usual well built official(ish) trails towards the front of the hill, though we opted for the network of tracks down towards Monnetier as they're less built so we wouldn't trash saturated berms or jumps……and they're a little less steep so we had a little more chance of making it down attached to the bike.
Surprisingly the trails weren't too bad. With so much water about the mud was pretty thin and didn't clog you or the bike too badly. The trails were even grippier than I've ridden them in places where they'd washed the bedrock completely clean.
Back to the carpark we rinse off the bikes and head up for another lap. Just as we reached the top telepherique station we broke though the cloud, blue skies above and extensive views of more cloud but below us instead of above.
Heading down the hill meant we'd lose this rare opportunity to top up on vitamin D (when you leave Scotland, your ration gets taken away from you. Aye, you thought it was methadone everyone was queueing for outside Boots, y'ken noo eh). Also, I'd heard there were good trails in the other direction than we normally take so we chose not to choose dh, but chose something different. Pedalling up the hill.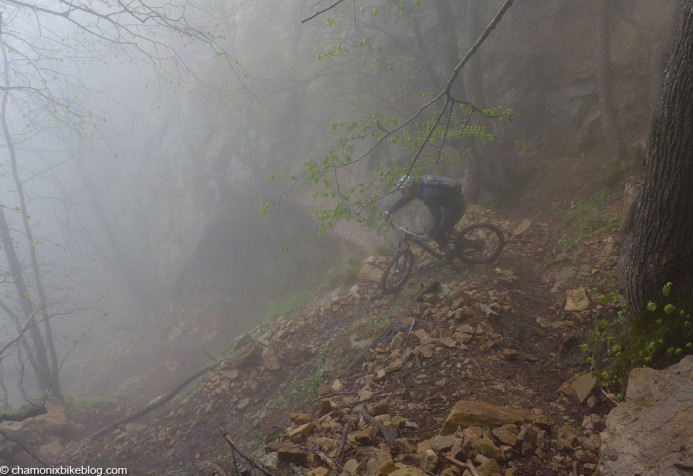 Turns out there's a Buddhist retreat and an observation station up there. And some roads, the odd field, cows etc.
Might also be some views but all we could see was a sea of clouds stretching out into the distance. There's also lots of handy direction signs, one of which suggested we head for the Telepherique (Gare Inferieure) via the Grande Gorge.
I will now suggest to you that you don't, but we didn't know that at the time and dropped in. To be fair the trail was pretty good at first, a little on the narrow and exposed side, but nothing too bad. Then however we reached the gorge bit of the name, which was less than grand on a bike. Steep and narrow on a mix of rubble and slick rocks which would have been challenge enough just downclimbing normally in the current conditions, but whilst trying to hold onto your bike was pretty tricky.
Fortunately it didn't last for the whole descent and, despite some false starts where we thought the difficulties had ended buuuut they hadn't, we were back on some good trails again.
In fact, as we got further down the hill they went from good to great (grand even? Too much, ok.). Surprisingly reminiscent of Finale with undulating trails snaking through deciduous forest and peppered with limestone rocks that could either be a risk to your dérailleur or something to pop off and over depending on how confident you were feeling.
The biggest difference was the vibrant greens of the forest which you can only get after a good downpour.
More exploring to be done, but not today. Might try and go in the dry too next time. And not on May the fourth. Saving you from poor titles it will.