In 2013 Lorne and I tried to ride every lift on the Chamonix pass in a day. We failed because we didn't really think it through first. You can read all about it on the blog here.
In 2016 Lorne and I tried to ride every lift on the Chamonix pass in a day. We failed because we were a bit ambitious about how quick we'd move at the end of the day. You can read all about it on Pinkbike here.
In 2018 Lorne and I tried to ride every lift on the Chamonix pass* in a day. We…..
Well, where would the suspense be if you knew the outcome was by the 3rd paragraph? OK, it would be in the well written prose where it's a literary technique called prolepsis, but here you're lucky if I dinnay stray into Scots too often, so you can just have good old fashioned chronological prose instead. (play literary technique bingo HERE with the hand guide to words you'll never remember)
In past attempts there were pages of maps and detailed spreadsheets of timings. For this go it was as much as either of us could do to find a date neither of us were working. Date found, we met for the 0754 train outta Chamonix with a scribbled list of lift closure times and worked it out on the way.
Pedal up to Le Tour, wait for the lifts to open, go up the lifts, ride round to the Vallorcine DH. Its been well hammered by some recent storms, the "black" grading probably needs shaded in even harder. It's quite the warm up lap.
Up the Vallorcine gondola, pedal up to the Col Posettes, head down through the bike park. It's the July – August bike ban so the more interesting ways down are all out of bounds. Obviously, being the smoothest and easiest trail of the day, I get a puncture on the green track.
Grands Montets, Flegere and Brevent are all closed to bikes this summer (well, Brevent isn't, but you can only go up from 1615 and there's just 1 way down, so we're treating it as closed) so it's a fast pedal through the valley to Les Houches and Prarion.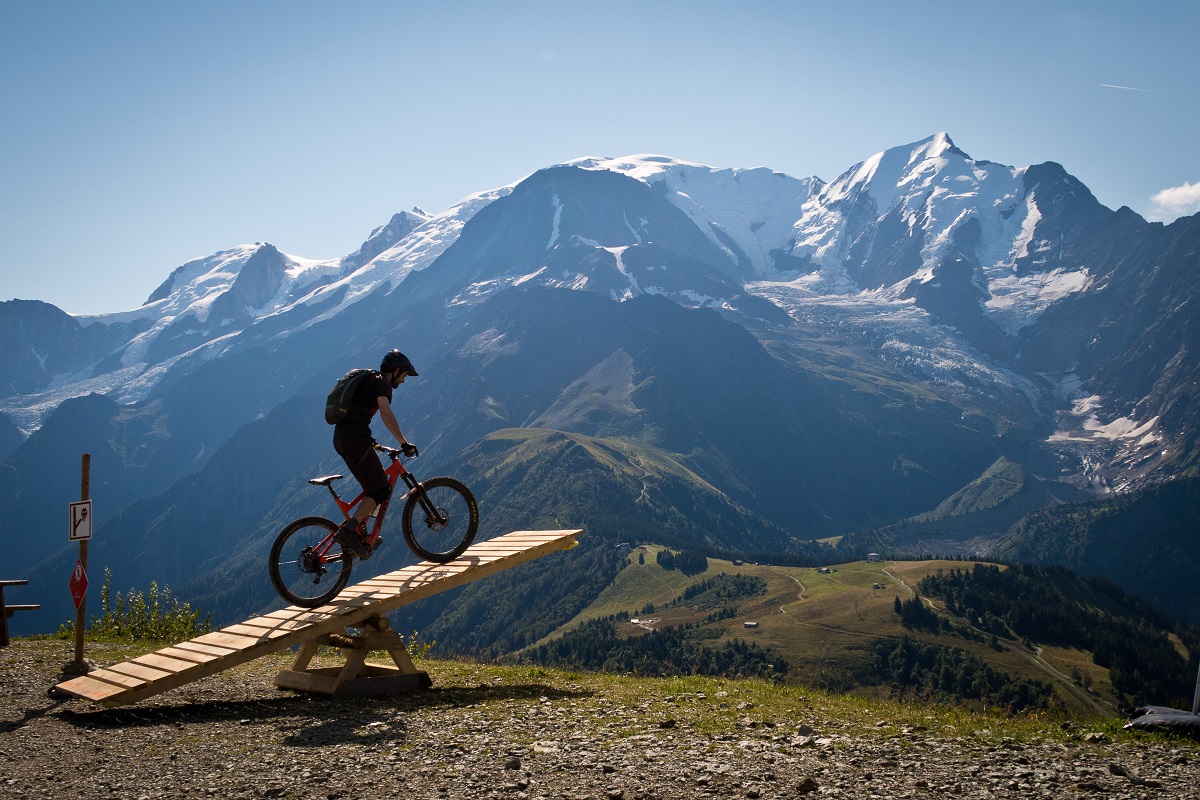 Prarion lift, Prarion DH trail. There's a new see-saw to enter the track (we don't like see-saws) the trails running pretty good, and the new finish spits you out just above the Bellevue lift.
Puncture excepted, all had gone smoothly up to now. There was a gondola sitting ready to leave. We weren't allowed on it and had to wait for the next lift. I bought a baguette. You make the most of downtime on days like these.
There's a grand yet little known trail starting a few hundred meter down from the Bellevue lift that drops you down towards La Chapiot. We took this trail for those reasons, it really is grand and being little known it wasn't hoaching. It also handily puts you onto the trail round to Pont des Places and Le Champel and cuts out a wheen of road and climbing on the way to Les Contamines.
A handy feature of many of the lifts outside the Chamonix valley is they either close for lunch or run on 30 minute rotations. Or both. The Les Contamines lift closes from 1230 to 1345. With some smugness we were on the lift by 1200. As the next lift was also closed 'til 1345 we chose to do a bigger lap off the top. Well worth the detour. And we could stop and take some photos as we went too. Bonus.
Bollocks. Having sauntered up to the St Gervais lift well before its 1345 opening we get blocked out of the queue for the second stage and made to wait 15 mins for the next rotation. Will we make the last lift in time? Will we rue those missing 15 mins? Will anywhere have ice cream in Megeve? All these questions and more remain to be answered.
From the top of St Gervais we're aiming for the Jaillet lift in Megeve, and strike a fairly direct line towards it down the hill. The trails about here aren't so easy to find as over in Chamonix, you don't get as many folks exploring this far. If you can bring yourself to make the effort, then joining the dots between Les Mandarines Restaurant, Bornand, Darbelet and Les Choseaux is well worth your effort, even if forestry work and storms have damaged or destroyed some sections of the trail. About a third of the way down we score the first crash of the day too, with Lorne hitting the deck hard. An enduro crash though, he's up and riding as soon as he can see the bike is fine.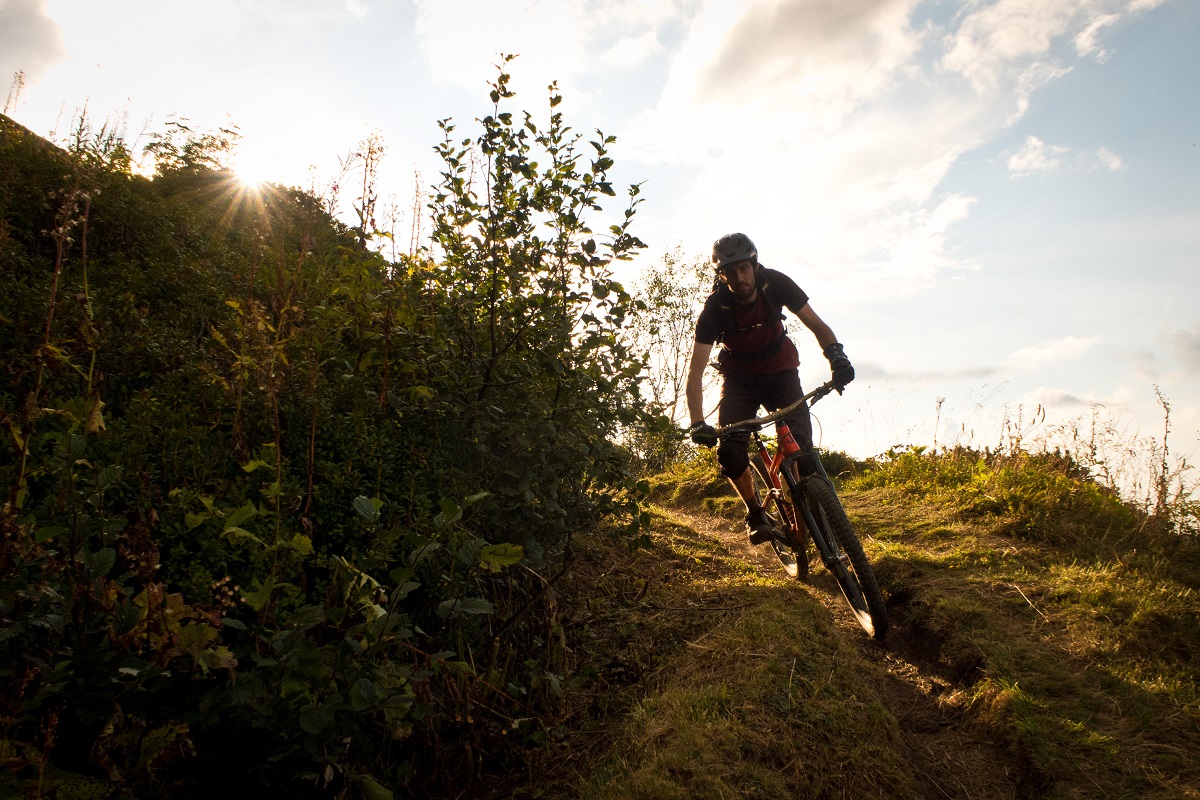 At the Jaillet lift we find Lorne is a little less fine, but it's only blood and the body had something like 5 litres of the stuff so he can afford to waste some of it. Jaillet lift is also home to some fine trails, a veritable maze criss crosses its way through the forest below the lift. The best way to learn it is to get a day pass and keep trying different trails. We didn't have time for that, so Lorne had to trust I could remember where I went in races past.
It seemed to work, 45 mins after getting off the St Gervais lift we were at the Rochebrune lift and ready to rock. Except the Rochebrune wasn't running for another 15 mins. That answers that question.
Are there any worthwhile trails to ride off the Rochebrune lift? So far the answer there is no, but I've not tried every trail, so mibbies there's something. Eitherways, it's on the lift pass, takes bikes, and the 4×4 trails help get us over to the next lift with a minimum of pedaling, so it gets taken and ridden.
Petite Fontaine. This is more like it. We're running seriously tight here to get to the next lift by 1630, so there's no photos only memories (and they don't convert to 1's and 0's well yet), but this lift is way more what folks have in mind when they think of undiscovered alpine chairlifts. Big rolling terrain and sweet rooty singletrack. Over all to soon but with the schedule we're on, probably soon enough. Or maybe not, we get to our next checkpoint with so much time to spare we can buy ice creams. Another question answered.
Mont d'Arbois. Fourth of the poorly named Megeve trilogy, the lift brings you back up to more or less the top of the St Gervais lift. That means it brings you up to the top of the "Wizz" flow trail. In a region of the alps not known for getting flow trails right, this is a wee gem of a trail that could have been lifted straight out of Whistler. Early season Whistler before the braking bumps form up at that. Not sure about the name though.
Wizz trail ridden, we're still 620m above and 16 mins before the last tramway, our last lift, of the day. Whilst it would be nice to do those 620m on some quality singletrack that's not an option in this area, and even the average singletrack is a bit time consuming, so we crack on with a bit of road riding and cut through finding.
Two minutes early is as good as 10. Two minutes is enough to buy a can of juice whilst you wait for the Tramway car to appear over the horizon. You learn to make the most of downtime on days like these.
Arriving at the bike high point of the tramway, Bellevue, it sort of dawns on us that we've actually managed to get round all of the lifts. We're both a bit tired and the cumulative wear and tear of the day is showing. The sensible choice here would be to take the classic GR5 trail down as a victory lap…..but somehow that doesn't seem quite the fitting way to end. No, to celebrate we decide that we've not done enough today and the perfect way down would be to drag our battered bikes and bodies up towards the Col Mont Lachat and ride one of the most technical and consequential trails in the valley.
I'm not sure I could truthfully say the Arandellys descent is the most suitable trail to end this day on, but I guess there were a few parallels to the rest of the ride. You need a certain amount of ambition, confidence and luck to ride it clean. Neither of us rode it clean, but we were both above our average for getting through each section. Amazing what a bit of success does for the riding confidence.
Another convenient coincidence of this trail, it ends at a pub. So did our ride**
*Some caveats. These are all the lifts on the Chamonix Mont Blanc Unlimited annual pass that you are allowed to take a bike on during the bike ban months of July and August. Outwith these months there are more choices in the Chamonix Valley, but then most of the lifts outside the valley are closed. Brevent is the complicated one as after a few years of being closed to bikes in July and August has no opened to bikes, but only after 1615 and only to ride the road down. So we missed it out.
** Well, only figuratively. We then rode home after a couple pints (err, don't drink and ride kids). As I live in a ground level apartment and Lorne a 3rd floor flat then I assume this is why my strava gives 9819m of descent and Lornes' 9996m. A fair bit either way. Lorne worked out the numbers on the ride without the lifts and train. 123.4km, 2070m climbing, 9996m descending. Up for it?