Hello, it's been a while. Missed me? Not much content here of late but it's not you, it's me. Not that I've no been riding, just that I've been working.
I've had umpteen jobs down the years. When I sat at a desk trying to find ways to pay for those walking and cycling routes politicians said Glasgow should have, I didn't find myself writing EU funding applications for infrastructure projects for fun at the weekend. Yet, with bike guiding, first chance you get to rest your calloused hands and you head off to try ride some trails you've never ridden before, and not get paid for it.
It all gets chalked up in the log book I guess.
Anyways, this is why on my week off I found myself hanging out with friends riding new trails in the Tarentaise.
And hanging out with friends riding new trails in the Valais.
And hanging out with friends riding new trails in Beaufortain.
This blog is about the last of those.
Beaufortain is the area you've not heard of. Unless you race ski-mo. Or eat a lot of cheese. Cows are definitely priority #1 in this area. Fortunately though, there's not much number 2 (except courtesy of priority number 1 alas) so bikes are encouraged as a way to supplement the cheese-and-skiing financial model that so much of the alps seems to survive on. Yay for generous unemployment benefit.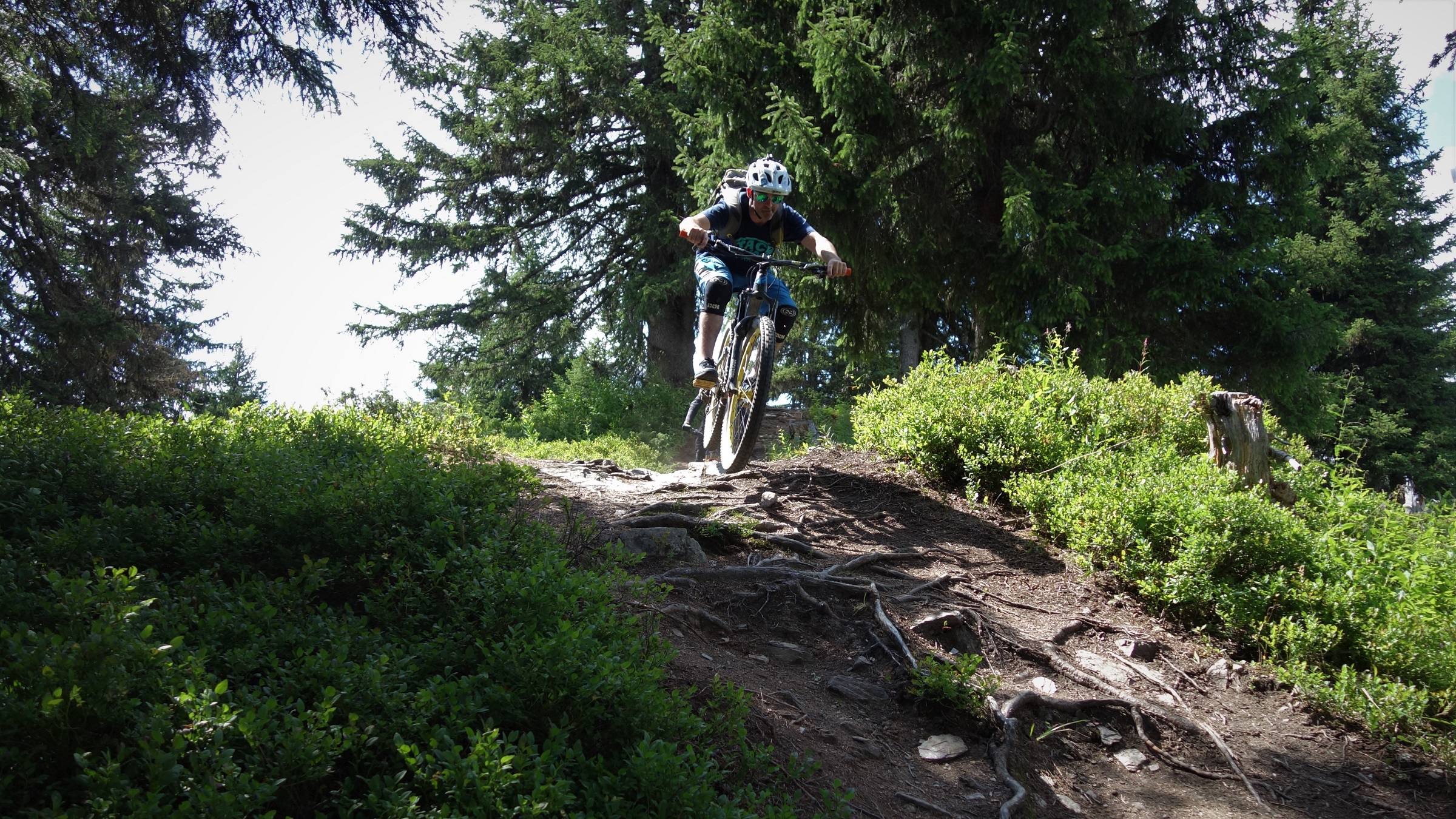 So how do VTT get encouraged to join the vache? Lots of way-marked trails, some pumptracks, cheap chairlifts and free buses. Pretty good eh.
With a forecast as all over the place as a Prime Ministerial haircut, we met at noon. Well, we planned to. Everyone was late. It started raining, we put our jackets on, it stopped raining, and that was the weather fixed for the day. You learn these tricks at guide school.
Time to ride. Chris was meeting us down in Beaufort. There's a free bus from Beaufort back up to Les Saises. Les Saisies is about 900 meters above Beaufort. You can see where this is going.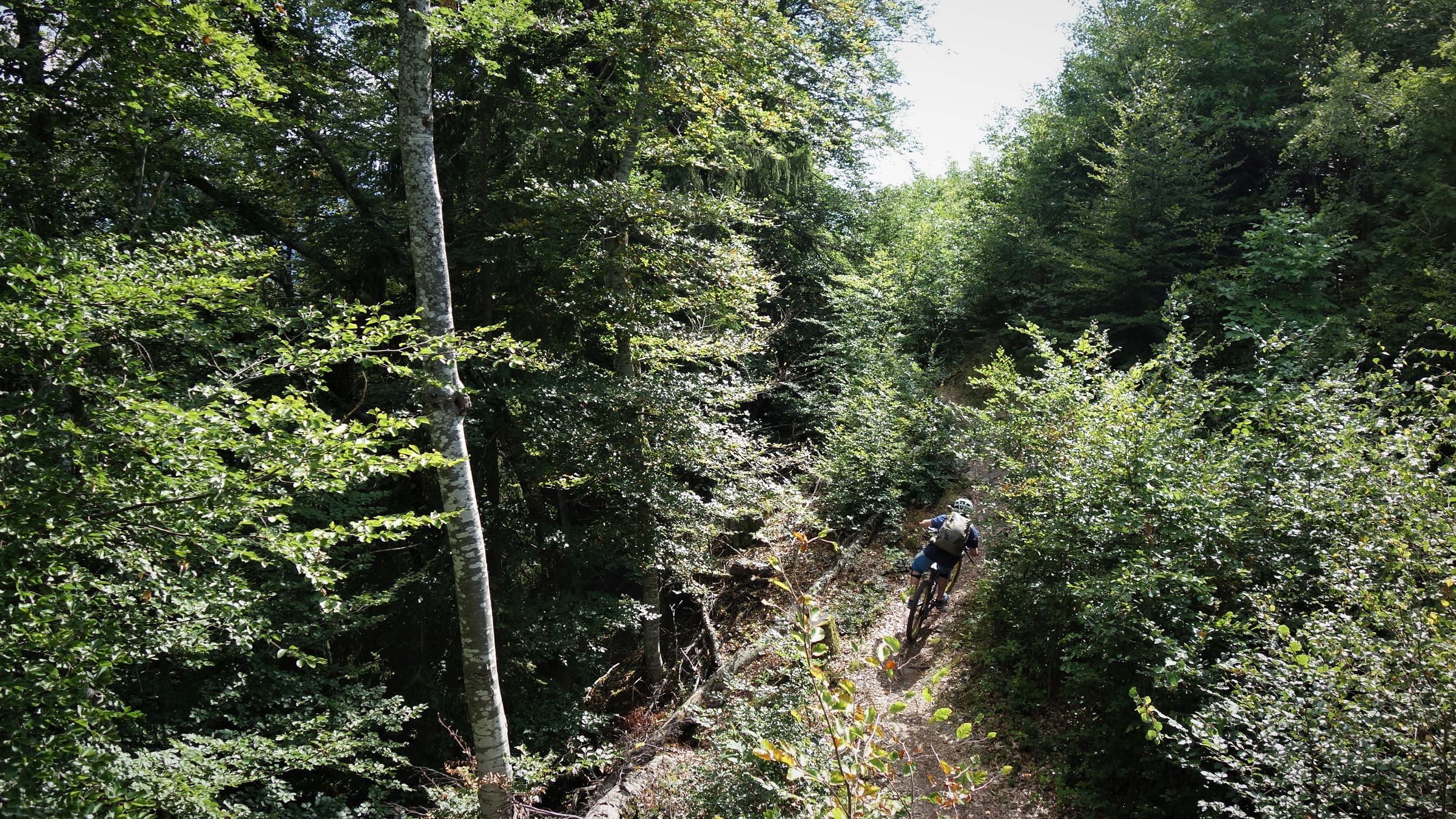 The "Adret'naline" (or something like that, trail building is stronger than trail naming out here) trail from Les Saisies to Beaufort is pretty good. The start's a bit meh but once into the woods things start going downhill in a good way. As both Martin and me had spent the morning watching Val di Sole practice highlights we weren't in the mood to be stopping for photos so you'll just have to take our word for it, but as free uplifted trails go, hard to beat.
Next up, main course. We'd met Chris in Beaufort, had some quiche, got on a bus, headed up to Mont Bisanne (top tip, stay on the bus after the Les Saisies stop, you get a bit more vertical for free. Or buy a ticket for the chairlift if pedalling 150m of vert doesn't appeal) and looked at the views.
The "Dev'Albertville" trail's been kicking about my to do list for a few years now, so it was grand to finally get onto it. It starts a wee bit boringly with some fireroad and a bit of climbing, but once on the ridge proper, dropping down to Albertville 1600m below, it's worth the effort. Plenty single track, some switchbacks but nowt too tight, bitta tech, bitta fast stuff, there's even a cracking handbuilt berm-berm-berm-kicker-berm-berm-repeat section towards the end.
There's also a couple of mid descent climbs, some tarmac and a badly signposted posh housing estate to negotiate, but if you can't see past those flies to enjoy your ointment, well, this analogy's not for you frankly.
Then, more buses. Not free, but €5 to get you and your bike from Albertville back to Beaufort then Les Saises again doesn't seem too harsh to me, just mibbies bring something to help secure your bike with….
Due to not really reading the bus times in much detail, it was now 7.15 pm and time to head home, but with a just a wee bit more (ok, any) planning you could link up a lot of good trails here with the buses, returning to the fine cafes of Beaufort on most every lap. Something for the next week off I guess.