"There's no such thing as a new idea". A phrase well kent in magazine journalism…. Is how I started the 2018 version of this, explaining why I was mining old content for a new post. Well, it's meta squared now as I take that post and update it for 2021, because a few things have happened since then.
It is pretty amazing how much information is out there for free right now. Between Strava, trailforks, mass tracking via the 5g microchips we've all had injected during vaccination and all the other apps I've never heard of and will need to ask a young person about, you can find near every trail in existence. Instagram and Youtube have you covered for images of any feature that looks halfway good too. Every action has an equal and opposite reaction though, as we go image heavy we're light on text; there's not many folk still blogging in the ski, climb or bike world. So much information, so little context. So little quality frankly.
Here then is what you need to know to go play bikes in and around the Chamonix valley. Text heavy, image light. All the other posts on this site are more interesting, but it's likely this is all you need so just read below and don't bother with the rest of it I guess.
Also, I don't work in marketing or sales.
Lifts.
These are the lifts you can take your bike on, you can find roughly when they are open here.
Le Tour/ Vallorcine: Lift info here Mellow angled flowy riding on the whole, with some great stuff down into Switzerland. Le Tour gondola is being replaced from spring 2021 so disruption is possible.
Grands Montets: Lift info here Limited riding, but some good trails worth a look none the less. Limited is a relative term in Chamonix after all. The original GM lift burnt down in autumn 2018 and currently scheduled to be rebuilt in 2023. Until then, the Plan Joran lift opens for bikes but the liasion between lift and start of the trails is a little bit too moonscape freeride. Still, easier than pedalling up.
Flegere: Lift info here If you don't like rocks, tech, or big views you're unlikely to enjoy Flegere.
Brevent: Lift info here There is a LOT of riding from Brevent, but it's all on the steeper, more technical side of things.
Les Houches: Lift info here The much overlooked, underappreciated hotspot of Chamonix biking. Huge amounts of trails with more being added all the time and also the gateway to the larger Portes du Mont Blanc area.
Tramway du Mont Blanc: Lift info here 100 year old lift infrastructure that works great for bikes, getting you back into the Chamonix valley. Huge investment is going into new trams and stations, so there'll probably be disruption over the next few years.
Then, not actually Chamonix, but covered by the "unlimited" Chamonix lift pass (lift pass stuff below) you have:
Mont d'Arbois Petite Fontaine & Rochebrune: Lift info here The Portes du Mont Blanc are a bit like the whole Les Gets/Morzine area, but without any people and only a couple of purpose built trails.
Jaillet: Lift info here Riding out of Megeve, and with a maze of great trails underneath it.
Bettex St Gervais: Lift info here Home to one of the best greeny/blue flow trails in the alps.
Les Contamines: Lift info here Hidden away at the top of a long dark valley, doesn't get the attention it deserves from aficionados of lift accessed big mountain scenery riding.
Lift Passes.
So you know what lifts you can use, but what lifts can you afford to use? In 2021 you have 4 choices.
1) 25.00 euro VTT day pass which gives you a day unlimited use of the lifts at Le Tour OR Les Houches OR Grands Montets OR Megeve.
2) 35.50 euro gives you all of the above on the same day, but you need to get between the areas yourself.
3) 70.00 euro "Unlimited" pass which means you can use all the lifts listed above, and the non bike accessible lifts too, so also the Midi etc. If you're fitting bikes around tourism then this pass is for sure the best bet, and if you're out for a week then the full area summer pass is actually pretty good value (in Chamonix lift terms at least) at 137 euro for 6 days, and worth getting for the access to the Tramway Mont Blanc and Portes du Mont Blanc region alone.
4) Buying individual tickets each time you go up the hill which, if you want to ride Brevent or Flegere without a season pass, is sometimes the only way to do it. Or maybe you're just off on a mission and only need the one go on a lift. Either way, the costs are here. If you want to ride any of the Megeve, St Gervais or Les Contamines lifts WITHOUT having the Unlimited pass then you need to buy tickets at those resorts. Those passes cover all 3 areas and at €18.50 are a bargain for the amount of riding available
The lift pass prices page is hidden on the CdMB website here. Another option if you're riding here a lot during the summer is the rapidcard, which is a one off purchase of 25 to 50 euro for the card, then every day you use it is much reduced compared to the normal daypass price, with the added advantage of covering the lifts that aren't on the VTT pass so you can easily ride the Brevent/Flegere/Tramway lifts without a fight at the ticket desk….
If on the off chance you've accidentally gone to Chamonix for a full season, you'll probably want a full season pass. Info for that is actively hidden on the CdMB site, it's actually part of the residency test to work out how to buy the pass. Here's the start of a breadcrumb trail for anyone who think's I'm joking. The Les Houches Bike Crew (more further down) is trying to get a VTT season pass started, so that should hopefully be a thing by summer 2021 onwards.
Trails.
There are some restrictions on where and when you can ride a bike in Chamonix and surrounds, but it's really not that hard, you just need to ask yourself one question: Is it July / August or not?
No- Outside of July and August you can ride anywhere that isn't the Aiguille Rouge National Park. The park is well marked on the IGN maps and with little posts on every trail that goes over the park boundary. Simples.
Yes- In July and August Arrete du Marie 010605/2020 comes into force and you can only ride those listed tracks in the valley. This really isn't an issue. All those other trails are covered in walkers and trail runners and you canny get any flow at all. At either end of the valley, Les Houches and Le Tour, you have some different rules. Les Houches only limits bikes on the "Grand Sentiers", so the GR5/Tour du Mont Blanc trail from Bellevue. Fine, just use the recently resurrected DH track. Le Tour has the same limits on the Chamonix side, but the Vallorcine side is a different commune, so no stoppage, and the rest of area accessed from the lifts is in Switzerland where again, bikes are allowed on all the trails as long as you give way to walkers and don't damage the trails. Saying that, the Tour du Mont Blanc route from Tete du Balme round to Trient has an unofficial ban (think like the voluntary Snowdon ban) during the busy periods of the summer. Fortunately it's also not the best, or even second best trail round there, so it's no great hardship to miss it out during July and August.
If all that's too much hassle to deal with you could always just hire a guide, me preferably: Alpineflowmtb, guiding you to your new best trail ever. If a guide is too much like someone taking away all the fun of getting lost and riding the blown out knackered trails rather than the finest, gold standard, alpine singletrack, then try getting hold of a copy of the Chamonix Bike Book. Still available from local bike and book shops.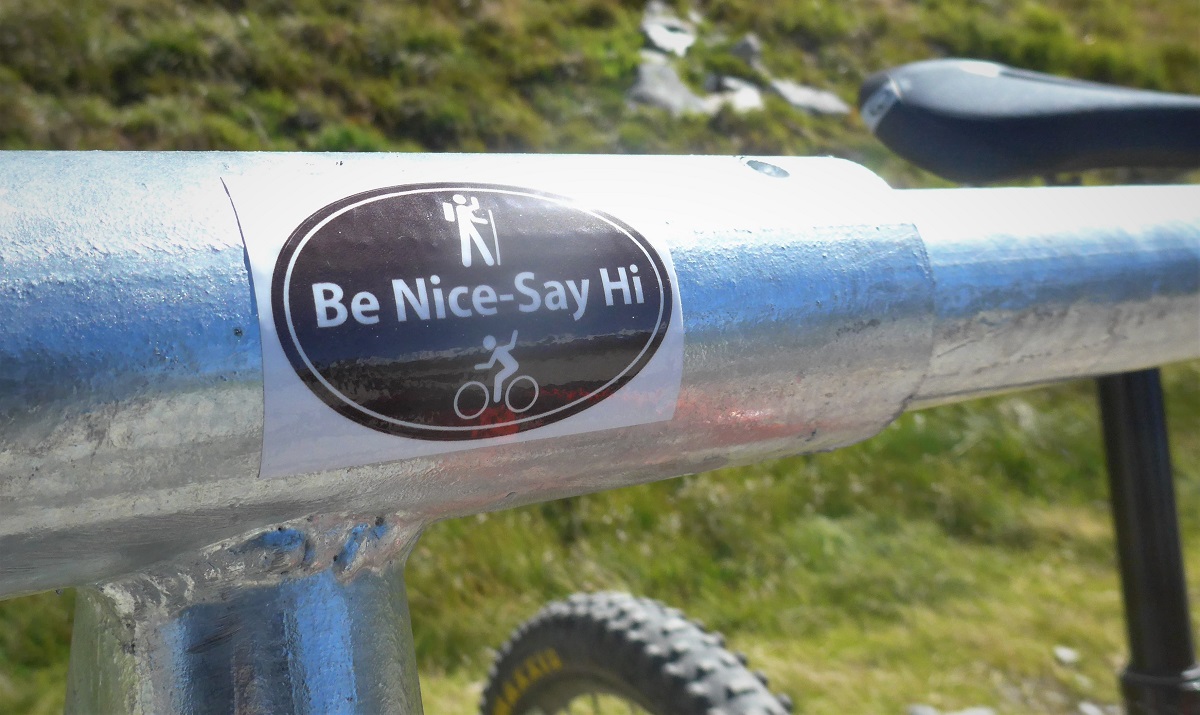 Trail etiquette. Guess what. You ain't that important. The town, authorities, lift company, none of them really give a shit whether you come here to bike or not. The biking euro is useful, but compared to the money brought in by walkers, trail runners, alpinistes and skiers… it's nothing. So if one user group is going to get banned, it'll be bikes.
Simply put, we are worth the least to the valley. So we kinda have to play nice and not give anyone the excuse to extend any of the existing restrictions. For 99% of the folks biking in Chamonix, this isn't a problem but there's always someone who doesn't quite get it. A refresher if you need it; Say hello (or bonjour, salut, ciao, whatever you're comfy with), smile, make eye contact, slow down when passing other trail users, slow down to a stop at the side of the trail if it's narrow, don't skid every. damn. corner, don't make cut lines. And some of you really won't like this but outside of the bike parks, maybe don't wear a full face helmet. If you're riding quick enough to think you need the extra protection, you're probably going too fast for a shared use trail. If you are worried about the trail being too technical and you think you'll be crashing lots on the way down, perhaps an easier trail will be more fun for you, and most folks walk at least one section on a long descent. A full face lidded, goggle wearing rider barreling down the trail is pretty intimidating and freaks folk out. But, if folks can see your face and make eye contact, conflict is way less likely. Almost everyone you meet is going to be friendly and encouraging, so please don't give the 1% any more ammunition than they can already make up.
Since 2018 there's been a wheen more riders out on the trails…and building trails. This is great, but is also causing a bit more friction in a few places. So, the Les Houches Bike Crew came into being as a trail advocacy group to both campaign for new trails, coordinate building new, sustainable, trails and work on keeping and expanding the access we have. It's early days and like all new groups, not everything is perfect, but there's some new trails and events in the valley that wouldn't have happened without them and the crew provides a vital link between the lift companies, Maries (who aren't always as anti bike as you might think) and other parties with the riders of the valley. So, if you want to try and help have the MTB voice heard, or want to support the building and maintaining of trails in this bit of the '74, you can join or donate to the leshouchesbikecrew.com
Or to summarise, again: Be nice, say hi. Don't be a dick.
Public Transport. 
Sometimes you want to take your mode of transport onto another mode of transport. In the Chamonix valley you can use both bus and train with the bike. There are bike buses that run from late June to early September each year and are in practice free (best carry your carte d'hote just in case, but you'll rarely be asked to show it) and take you from the town centre to the lifts at Prarion and Le Tour. You can also fit up to 5 bikes on the trains, or considerably more if no one is being a jobsworth, but don't count on that. The train is free between Servoz and Vallorcine with your Carte d'hote, you have to pay for it from Le Fayet up to Chamonix or from Vallorcine onwards to Switzerland. You can check the train times here.
What's a carte d'hote I hear you ask? Well, when you stay in a chalet/airbnb/hotel/campsite/whatever, the proprietor will charge you "tax de sejour" or a day tax for being a tourist in the valley. Part of what this tax gets you is a business card sized, umm, card which is for free transport in the valley. If you don't get given this either your accommodation provider has probably forgotten, so ask them for it. If you're staying with friends the tourist info office will happily sell you a card for about the cost of 1 train journey, so it's a fairly simple cost/benefit analysis to make.
Bike hire and repairs.
Sometime you break your bike and it can be fixed. Sometimes it can't. Sometimes that super lightweight rigid singlespeed fat bike just ain't gonna cut the mustard. Sometimes you decide you want an e-bike. All and more of these issues can be dealt with at the following places: Slash, Zero-G, Legend CHX, Sport Spirit
Other stuff.
What is the best bike to ride in Chamonix? Any bike you want really, but the Airdrop Edit is hard to beat… DH focused geometry without being a DH bike, 155mm travel at the back with a bit more at the front, solid reliable build but more than capable of going up the hill under your power too.
I've finished riding, where do we toast a successful day shredding the gnar? Anywhere that sells Sapaudia beer. Obviously. Which just happens to be Bighorn, Le Vert, Delice and Beckett & Wilde, with other bars having it occasionally on tap.
Yeah, pretty blatant, but Airdrop and Sapaudia have both believed in me and this blog enough to help out when they have plenty of other things to be cracking on with (like making excellent bikes and fine ales), and continue to do so despite me cranking out recycled content like this which in turn is helping you out, so why not support them a bit too for the help you've just got.