How hard is it to write an article about pumptracks without mining the "pump it up" tropes?
Hard. Very hard indeed. I'll try avoid it, but can't promise anything.
If you remember 2020 when the biggest thing we had to worry about was global pandemic and not global war (another opportunity to say go fuck yourself Putin and leave the world, in peace) the pumptrack bike became the overnight coolest must have you must have.
I got one too, cheers Airdrop!
Of course, pumptrack bikes aint nothing new, a hardtail playbike has been a staple of riders sheds since I was wee. I mind selling my battered DMR sidekick about 5 years ago and being told just how much I'd regret it.
You were right Rob, I regretted it.
But the Fade is way better. I can lift it with one hand for a start…
Anyways, pumptrack bikes are great for kicking about and playing in the street, but they're also pretty good at pumptracks. And skate parks and dirt jumps, which will be called "trails" for the rest of this article because that's what they're called.
But where are these fabled pumptracks, and how fun are they?
It's a good question dear reader, and one I set off to answer last winter and spring. Or at least I did until I had a skiing disagreement with a tree which put things a bit behind schedule.
About 12 months late, here we are.
Biggest track in my arbitrarily applied 45 minute radius of Chamonix selection process. Not sure if I'd go as far as to say the best, but it's pretty fun, and handily has a great skatepark and bowl next to it too. And the hospital, which hopefully isn't handy.
The track features four distinct lines, an independent green, a mixed blue and red, and a separate black jump line and there's a fair few extra lines to unlock and keep you coming back for more. And there's even lights for evening sessions!
Undoubtably the best backdrop of any pumptrack built to date. Ever. Ok, I've got some history with this track, a moment of inattention here in 2016 was what resulted in me putting my arm bones through my wrist bones and leaving them in the palm of my hand along with the majority of my wrist in an unmade jigsaw of bone. Still, all better now. Kinda.
The tracks great, a bit tighter and more technical than a lot of riders would like, but I suspect this makes it better for skateboarders. I can't skate, so I'm guessing. A couple of mini ramps and modules help keep interest away from the blue and red loops of the track, which also has a couple of extra curricular lines to find. It also melts out way quicker than you'd think in the winter.
I've also so far failed to visit with the camera.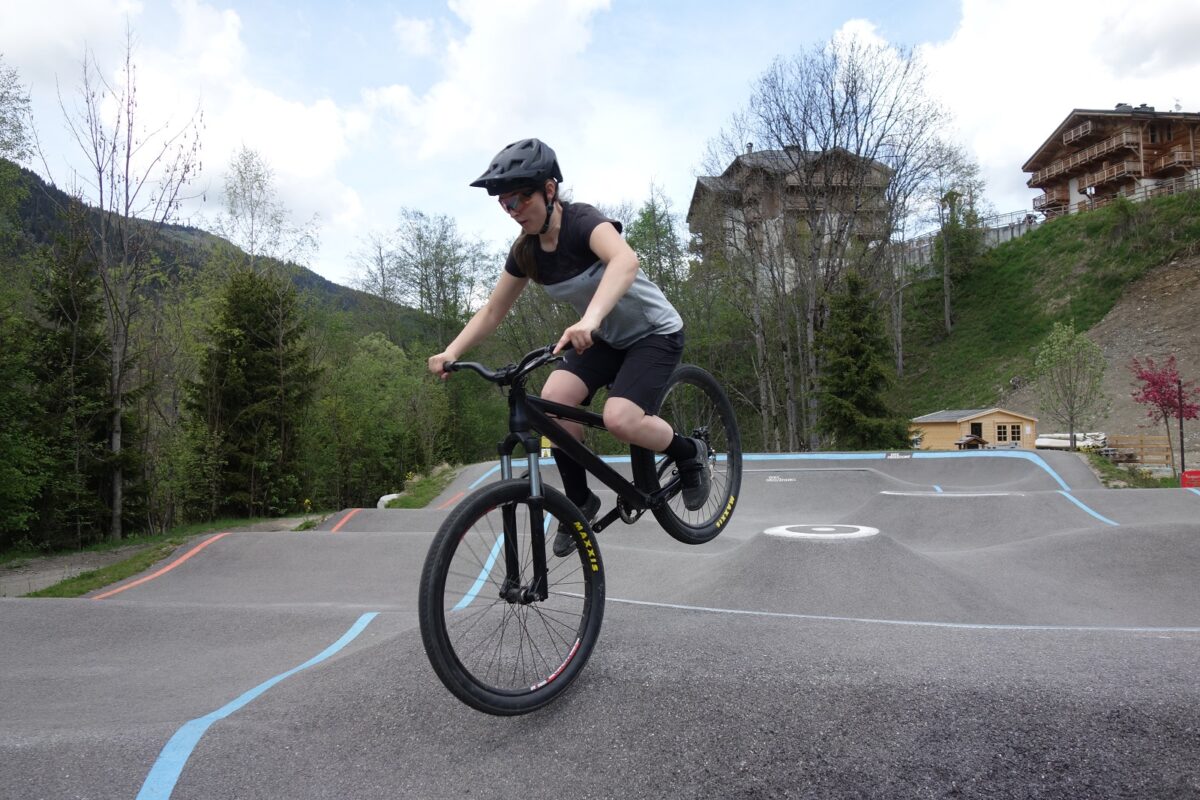 Hidden away at the end of a valley, and conveniently next to the trail outta town, sits the wee Les Contamines pumptrack. A bit different locally in having some copings and park features, but otherwise, a pretty standard pumptrack that runs fast and has lots of gaps slightly too big and intimidating for a usually injured and always feart rider like myself.
There's also a mini-ramp half pipe, which is pretty tight on a 26", and weeeellllllll slidey. But at least that means it doesn't hurt as much when the inevitable happens.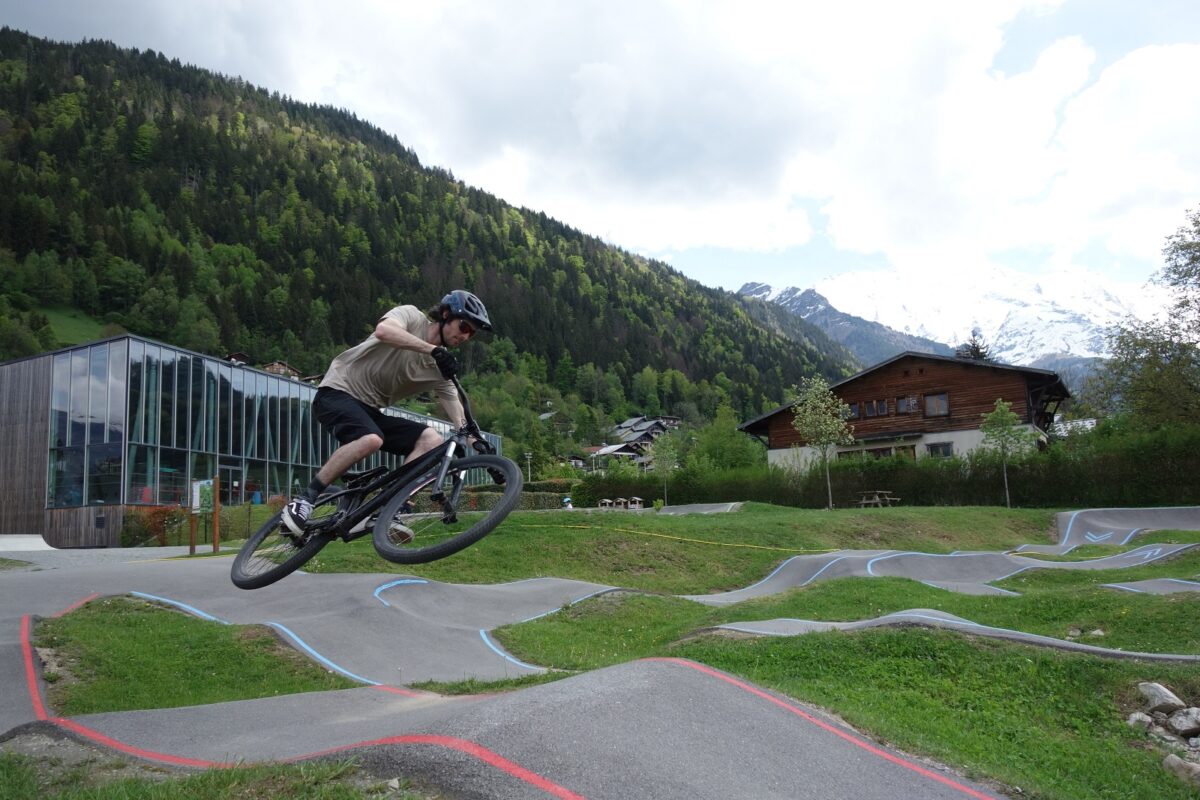 If you can find it, it's there. Behind the swimming pool. And it's really good. Ok, if you're any good at pumptracks it's probably too small and easy for you, but for the rest of us it's grand! Separate green loop for the balance biking weans, interwoven blue and red lines with nice whippy but short jumps, pretty much all with very forgiving landings. All this AND a really nice bowl just behind it, what more could you ask for?
Well there is a bonus "bikepark" about a km away in the woods, but I'd just stay at the pumptrack if I were you.
Try to find something nice to say about the Servoz track. It's very convenient if you live in Servoz and is good for the weans to play on. Not really worth the trip, just go ride the freeride lines in the woods instead.
Oh Chamonix, how you've fallen behind. There used to be a wee dirt track next to the skatepark, but it got flattened and replaced with…. a flat pile of dirt. The skatepark's ok, but really better for skating, it's a bit tight with big wheels. There are a couple of trails that go well on a DJ/pumptrack bike, but trail rules apply so they shouldn't appear on the internet unless the builder wants them to.
Les Houches
Coming soon…..(ok, maybe not soon. But coming. Or at least, it was in early 2022)
Exists. Allegedly. I've not been yet, despite it being at least 5 years old, however our roving reporter Matei aged 5 has and tells me "it's a bit clumsy made, I don't think they knew how to make a pumptrack." He does however like the adjacent bowl. And Combloux pumptrack.
Apparently there's one in Flaine. Very close to Chamonix in a straight line, pushing it to get there in under an hour but.
Rumoured to be pretty good, and with a wee skatepark and bowl next to it. Again, one to be updated. Like life, it's a work in progress this thing.
A little off the beaten track, and none the worse for it. Next to a plan d'eau and a bar, there's a lot going for the siting of this one, as we all know, location, location, location.
The track itself is a blue, red and black loop, with the blue and red being fairly standard affairs and the black being a bit odd as you need to transition in and out of the other lines to get it, and there's some consequence to the gaps on it. And it has a wall ride, which is good to see.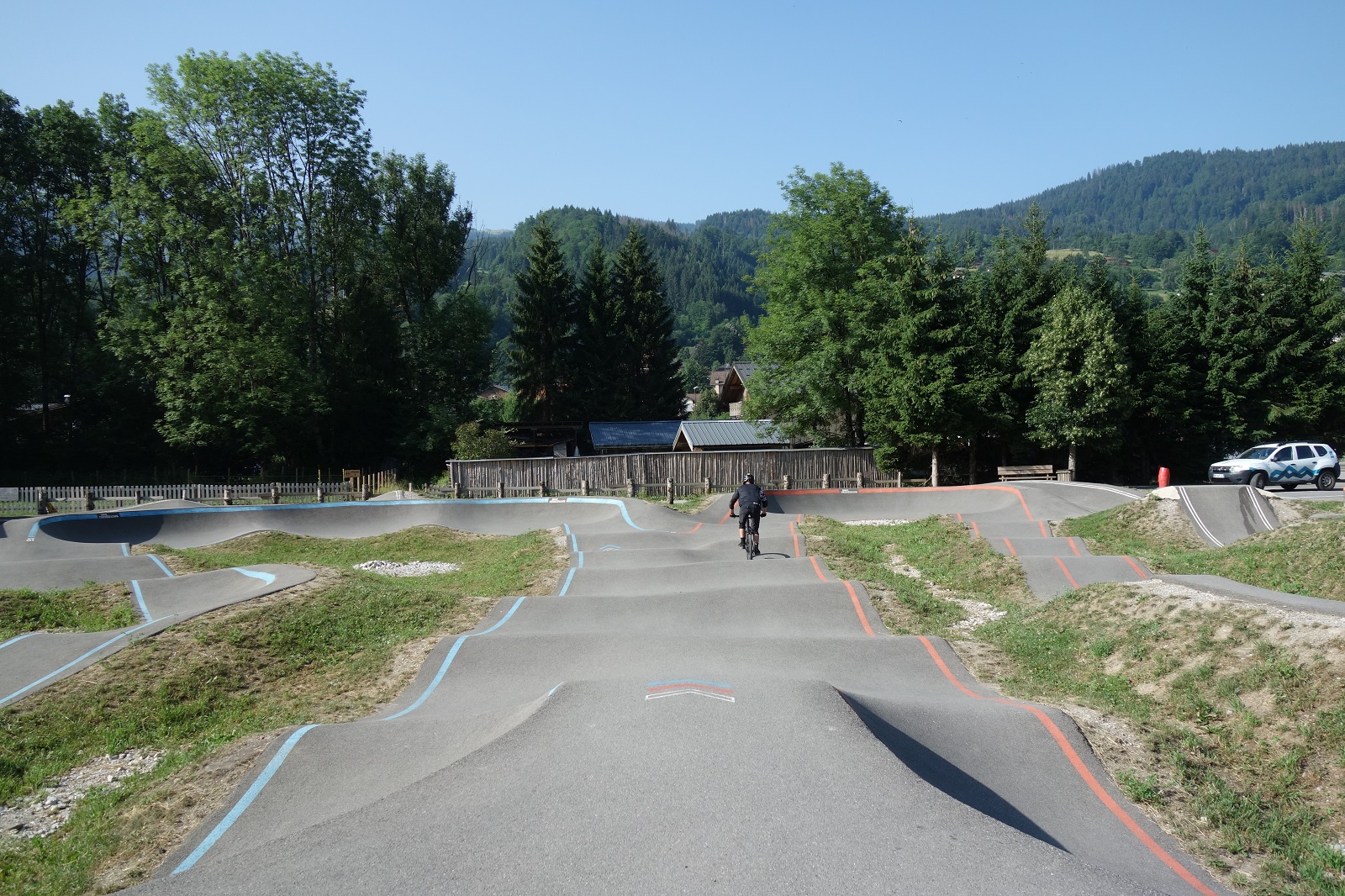 The best pumptrack in the (not actually) y'aute? Mibbies. The nearest Velosolutions pumptrack to Chamonix? Almost definitely. I wonder if there's a link there…
Anyways, a central 4 bowl thing is encircled by a longer pumptrack which DEFINITELY wants you to leave the ground, it's pretty hard to make it round without getting your wheels in the air. Runs very very fast too. Loads of fun and loads of opportunity for weird lines. And can be quiet.
Fresh in late 2022, the tarmac is still warm. Perhaps the only track to give Combloux a bit of competition in the best backdrop eva stakes, another Bikesolutions green-blue-red-deeper shade of red, with a bit of coping and module action thrown in for luck too.
With a fairly big area to work with and a slight amount of gradient, the PdA track is maybe the best in the Arve valley for the less brave and competent of us. Some nicely case-able step ups, a few good transition lines, super deep berms. Yeah, lot of fun. Should stay fairly snow free too being south facing and at about 1000m altitude.
To be updated as I get round to it, but if that infodump hasn't got you pumped to ride in the winter, I dunno what will. (d'oh)