First things first. It's been really hot in the alps, and dry (It still comes as a surprise to a Scot that very dry = very little grip on singletrack, but that's basically what condition the trails are in everywhere this week.) Very little grip and you have to either be first, 6 inches off the leaders tyre or way way back to see anything. The weather has finally broken however and a few days of rain should help tack everything back up, and save us from heat stroke.
It's also really busy here in Chamonix, so Tom, Lorne & I got in the car and made the 45 minute drive to Samoens in the Grand Massif to get far from the madding crowd. The Grand Massif is the interlinked ski area of Flaine, Samoens, Morillon, Les Carroz & Sixt, sandwiched between it's more famous neighbours of Chamonix and the Portes du Soleil, but much more in keeping with the terrain around Les Gets than Brevant. Also more like Les Gets is the attitude to Mountain Biking, with the area offering  8 lifts to haul your bike to the top of the hill and "more than 350km" of MTB tracks to play on once you're up.
In brief, if you've arrived with a big FR or DH bike (and almost everyone we met was on a 180mm travel FR bike, with a few DH machines inbetween), head to Samoens or Les Carroz, use the main lift out of either village and play on the tracks there. The blue trails are fast and flowing, the black are steeper and looser, more like a good DH race track than freeride course.  If you want some enduro riding, Samoens is the most central, but you can't go too far wrong starting from any of the areas, especially as bikes are allowed, virtually encouraged, on all trails. For XC riding, or if you're in town out of uplift season, Sixt and the Les Gets side of Samoens seem to give the best riding, with lots of road & firetrack to climb on with singletrack to descend back down.  The resorts promo video does a good job of showing off all the trails.
Our normally meticulous planning for trips failed us as I didn't realise the Morillon lifts are closed Tuesday & Wednesday, but that still left 5 lifts, so we figured we'd survive. Rolling into Samoens at 1000 the first thing we saw was lots of cyclists (well, lots by Chamonix terms, it's not Whistler), and a queue for the lift. Once we'd paid our 17.50 for whole area passes and been given piste maps and advice we joined the next queue for the lift. If the Grand Massif has 1 downside, it's the lift loading. A small problem I know, but 1 bike and no people in each 8 seater gondola doesn't move a back log of over 20 bikes very quickly! Still, we got up the 900ish meters of the "Grand Massif Express" to Les Saix, turned round and headed down. There's plenty of options, we were a bit disappointed by the marked red 54, so didn't hesitate very long in diverting ourselves onto an unmarked locals trail, which was frankly awesome. Fast & flowing with a mix of loam & root straights and well constructed firm berms, all making best use of the geography. A lot of the marked (and unmarked) trails converge some height above the village on the road where we thought the fun was over, but keep an eye out for the black return track dropping off the road which is great and has the best natural rock berm I've ever hit.
After heading back up the Grand Massif Express, we gained another 600m on the Chariande Express chair to head over to Flaine. I always take a "real" map along with the trail map in a new area to check what the terrain is, but that doesn't mean I actually look at it so it was a bit of a surprise when we discovered it was quite a climb to Flaine (Chamonix bike blog; we fail so you don't have to…)
The 1700m descent from the top of Flaine to Sixt is much recommended by connoisseurs of alpine descents, but none of us fancied the 250m climb up the gravel road in the full force of the sun to Les Grands Vans, and the other option of 100m climbing up the main road also looked a bit hot, so we decided to return on a cooler day and headed down through the pastures above the Lac de Vernant to follow an amazing bit of contouring track that, after some amazing dusty single track and not too punishing fire road climbing, brought us out by the Kedeusaz Telecabine above Les Carroz.
This lift accesses the Les Carroz bike park, an area directly below the lift line with, officially, a black & blue line dropping 700m back to the base station. Look around on the way up and down though and you'll see plenty of other tracks snaking through the trees, and even the 2 marked tracks have lots of optional sections. We rode 3 laps through the trees, with the fast and playful blue line being the favourite, a mix of fast big berms with only a few braking bumps and creative trail features (air to suspension bridge to air anyone?) our choices also being influenced by river crossings to cool down in.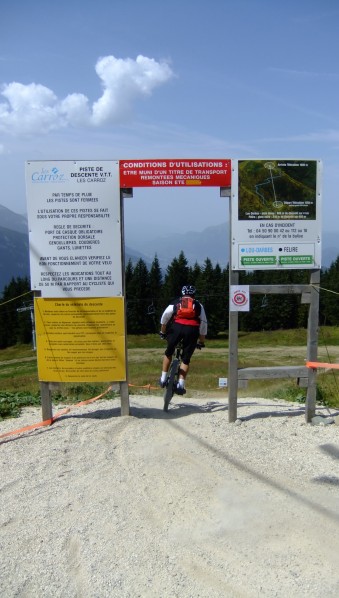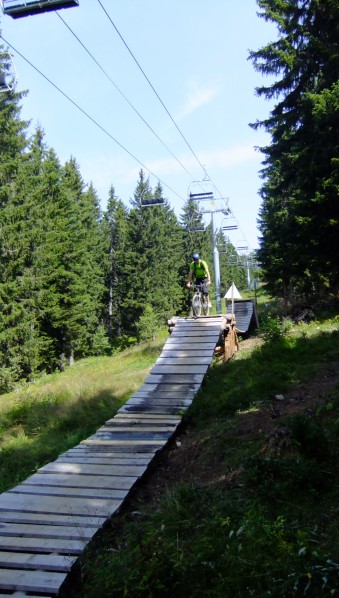 Time was marching on and we couldn't spend all day here, so after the top station lifty let us fill up on water from the staff room (cheers!) we had to pedal up 70 meters under our own power to get to the top of the (closed) Morillon area. The terrain didn't look to promising for getting round to Samoens but we headed down the fire road planning to take any track to the right in the hope it got us back. Eventually we found "red 1" which is probably better accessed for the ridgeline walking trail than the piste we followed, but either way was a great trail. Unfortunately the next section on the trail map seemed to be uncompleted northshore, so we headed down following our nose and google map along fire road and tarmac back to Samoens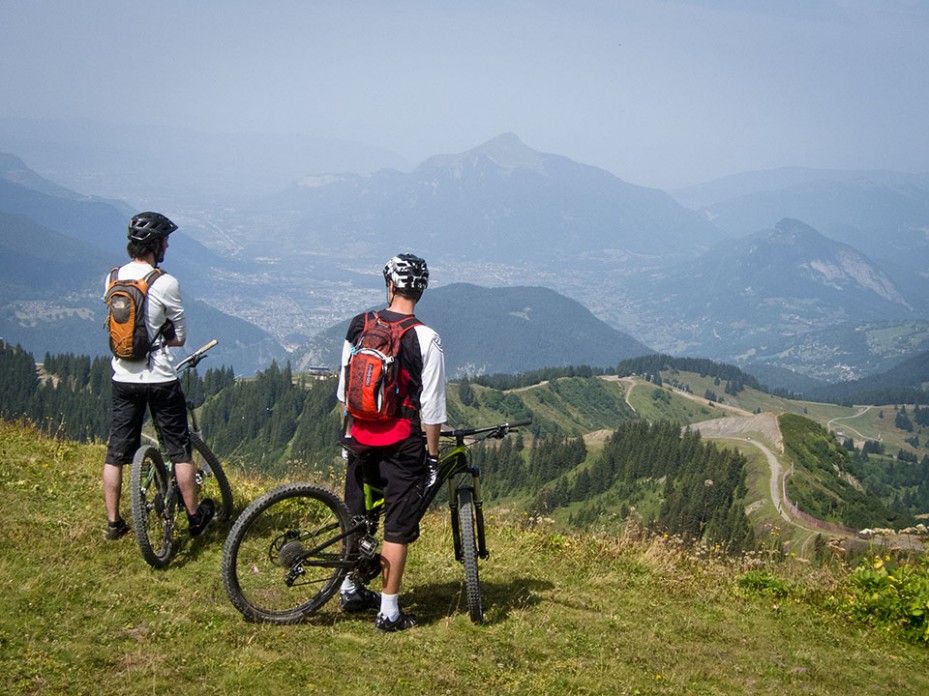 There were plans to do another lap on the GME, but having done more than 12000 foot of descending in our arms and being more than a bit baked by the heat, we passed instead heading for the best 2euro can of juice ever and to wash the dust of our bikes, definitely to return. When it's colder.