With nothing much to write about in Chamonix this week (the weather is hot, sunny and err hot, and both the town and trails are hoaching; Les Houches, Le Tour and GM trails are all holding up well, if a bit dusty; Flegere is OK but really needs the loose stones swept off it; rained a bit today which should improve grip, but the forecast is scorchio for the next week), I thought I'd put up a wee write up on the Tour du Mont Blanc which legendary (or at least infamous) Scottish biker Sanny & I did in September 2012. If you've got any questions or want some advice on the tour, ask away in the comments field.
Mont Blanc's a fairly big deal in France, they're quite proud of it. It was the biggest mountain in Europe till the Caucasus joined in, but it's still the highest in Western Europe. As a result, people flock to Chamonix to climb, descend, fly over, jump off and travel around Mont Blanc. All of these are possible with a bike, but only travelling around is anything less than contrived.
The circumnavigation, known as the Tour du Mont Blanc or TdMB, usually takes walkers six to twelve days, staying in the huts, refuges and hotels that line the route. It's also the venue for the "Ultra Trail Mont Blanc", a non-stop race around the TdMB, the winner generally coming in at around the 20hr mark… It's had a fair bit of attention from mountain bikers too, with umpteen companies offering guided circuits of 4 – 6 days, usually in a clockwise direction to maximise its rideability, but diverging from the route taken by walkers. After much pouring over maps, we thought we'd found a route that stayed fairly close to the "normal" Tour du Mont Blanc route, whilst maximising the amount of rideable, singletrack descending, with the least pain in the ascent. At 100 miles, with about 21,000 foot of climbing, we would need a fair bit of time to get round. We had 3 days. Best get a move on.
Obviously, for a ploy such as this, a reliable and competent companion is required.  Some say he can spot un-ridden trails from space and that he once told a joke so offensive, even Frankie Boyle was appalled. All we know is; he's called Sanny.
So with a plan, a Sanny and an almost perfect weather forecast we rolled out of Chamonix a little after 8am. Unfortunately we then had to ride the wrong way up the hill to reclaim some gear from a friend's house before we could get going, but who doesn't start a long ride with a bit of faff?
Meters Climbed: 0
Meters Singletrack descended: 0
The first half of the day was all about covering miles quickly and easily, so a short spin down the road to Les Houches before letting the Bellevue Cablecar take 700m of strain off our legs and take us up to the Col du Voza. Descending on a mix of fast fire road and single lane tarmac through bucolic alpine villages had us making time incredibly easy. Stopping outside Les Contamines to eat some of the leftovers of last night's Midnight Express takeaway, the first talk of a 2 day circuit was had.
Our enthusiasm was curbed by the start of the climbing proper outside of Notre dame de la Gorge, the transition from spinning away in the middle ring to grovelling in the granny was pretty harsh, but progress was being made and it seemed like an excellent idea to stop at the Refuge Nant Borant for some soup, ice cream and a rest before getting properly stuck in to our first proper alpine pass….
Meters Climbed: 416
Meters Singletrack descended: 0
….'Do you remember the 1st time?' I don't think any of the members of Pulp are mountain bikers, but even if you've ridden a bit in the alps, your 1st alpine pass is different, you've sweated to get there, not ridden a chair. Slowly your horizon has been less rock and more sky then a whole new set of hills to play in appear, and the possibilities start running through your mind: there's Les Arcs, I could ride there, and the Gran Paradiso, and.
The Col de la Bonhomme at 2329m is not quite the highest point, but it did mark where you can get back on the bike and start contouring round to the Col du la Croix de Bonhomme (2479m). From here the map had shown a single black dashed line dropping to the Refuge La Nova 930m below, suggesting an awesome singletrack descent, but as Sanny and I both knew, maps can tease, hint, prompt and even promise, but they don't always deliver.
This one did, laid out in front of us and snaking through the terrain like in all the best photos. We dropped the saddles & headed down. Jarvis Cocker was wrong, it was brilliant…..
Meters Climbed:  1468
Meters Singletrack descended: 930
….. What goes down must come up. We'd been steadily climbing to La Ville des Glaciers for about 20mins from the Refuge La Nova, where we'd discovered that spaghetti will not be served after 3pm. As a Cat 2 road climb, there wasn't really any other option but to steadily climb and unfortunately my hopes that the narrowness of the road would allow me to stop and get off whenever a car approached was scuppered by the genial motorists driving into the ditch to let us past. I was busy contemplating the strange noise that was emanating from my rear hub when Sanny pointed off the side of the road and politely suggested in Glaswegian that I look. Slowly gliding (soaring sounds more majestic, but really, this was the avian equivalent of a stroll down the shops) about 15 foot away was an eagle of at least 6 foot wingspan. There was no time for getting the camera out, it was just one of those moments you get every so often on a bike when you could savour nature, flora & fauna, and appreciate it for what it was, a bit like the days before we had to document in 1's and 0's our every movement. Just as the bird was fading from view, and the camera would have been lowered, its' mate flew by. That would've been an awesome photo. Bugger.…
Meters Climbed: 1568
Meters Singletrack descended: 930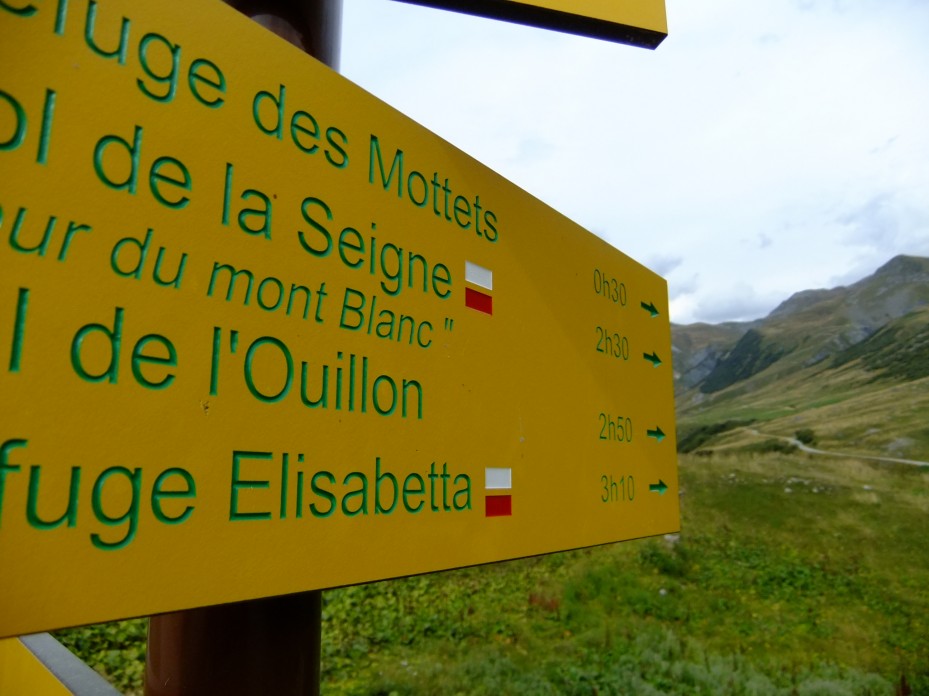 ……Should I stay or should I go? Sanny and I were stopped having a discussion about continuing on over into Italy, or stopping for the day in France. It was a 650m climb up the 2516m Col du Salena and then down to the Refuge Elisabetta Soldini, we'd hopefully knock it out fairly quickly, arriving in before the dinner cut-off time of 1900 and getting well ahead of schedule for tomorrow. But then again, the forecast was for an overnight storm starting in the late afternoon, the clouds and wind were building and some peals of thunder had been heard, suggesting that continuing may not be such a great idea. Our decision was made for us when the Refuge des Mottets came into view, and was decidedly closed looking. We swore, secretly pleased that the choice was out of our hands even if it wasn't the one we wanted, and stoically climbed on.
For 20 meters.
Below us, the Refuge des Mottets was very much open. We had mistaken a sheep herder's house for a 70 bed hut. There was no debate this time, we went to see what they were serving for tea….
Meters Climbed: 1789
Meters Singletrack descended: 930