I grew up riding in Scotland and sometimes, just sometimes, I can really miss the riding there. Don't get me wrong, Chamonix trails are ridiculously good, who wouldn't want to be quickly whisked up 1000m to ride off on trails, almost every one looking and feeling like it's from a movie, all in great weather. Or at least great if you're Scottish.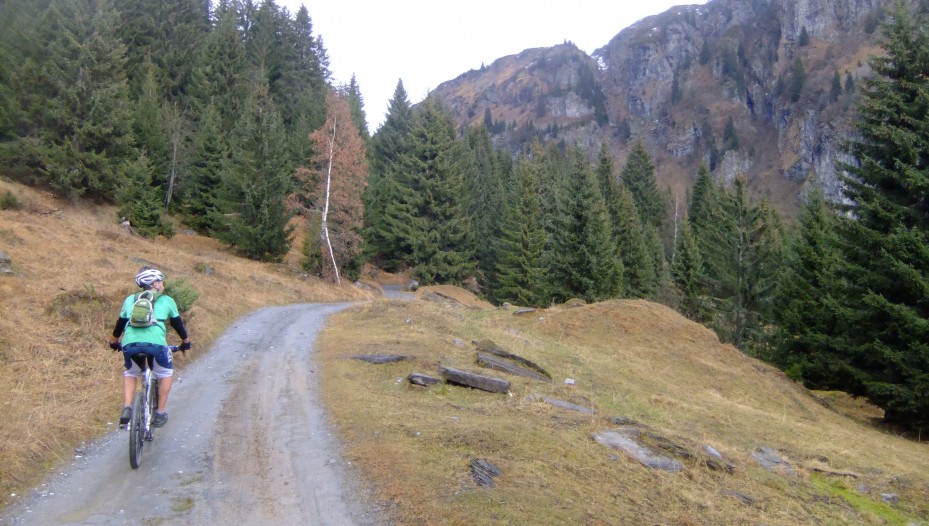 But despite this, or perhaps because of this, I miss having to ride up singletrack roads, fire roads, push up muddy sheep tracks and, when all else fails, just sprachel straight up the hill with the bike all for an unknown descent. Or by unknown, I mean you've seen the trace on the map so you know roughly where it goes, and you know it'll be muddy because it's almost winter, but more than that, no idea!
That the weather is pretty Scottish right now probably helped, but the trails above Servoz are about as close as I have found to the Scottish ethic. With skiing still not quite there in the valley, Jan and I headed out to beast the legs one last time (probably…) before the snow properly arrives.
Heading up from the town to the Trois Gouilles carpark on the road is pretty easy, and gets you the first 300m climbed without too much effort. The next 200m up to the Lac Vert parking are on gravel road and definitely take it out of you a bit more. From there, it's a mix of easier fire road and occasional singletrack (which is great in the other direction) to the Chalets du Souey, about 770m above Servoz.
So far, so Scottish. A long climb, grey skies, intermittent drizzle and heathery moorland above the treeline. The only clue we weren't just outside Oban was the occasional break in the cloud giving views of the Domes du Miage. This much of the trail I knew, but from here down all we had was a line on the map and some optimism.
Setting off down the trail we made it about 20meters before spying a natural rock wall ride.
Another aspect of biking back home I really miss is the stopping to play on cool features on the trail and making the most of what you see, rather than riding hundreds of vertical meters in a single go. We played for a while, until my imagination exceeded the level of grip available on the wet rock and I limped off with ripped shorts and a hole in my leg.
Back off down the trail and we were impressed. It's perhaps not the most flowing or consistent track in town, but you get plenty value for money. Fast bits, slow bits, tech, tight, open, simple. It all seemed to be in there. Normally I try and let some photos do the talking (it saves over a 1000 words each time) but a combination of poor light and having more fun playing on the trail slightly scuppered that. Suffice to say, if you're riding something between a cyclocross bike and a twin crown freeride rig, you'll have fun and be challenged but in a good way!
Two hours after leaving town, we rolled back into Servoz, muddier than when we left. At which point Jan, who is already in training for the 2013 Marmotte, suggested another lap.
Merde.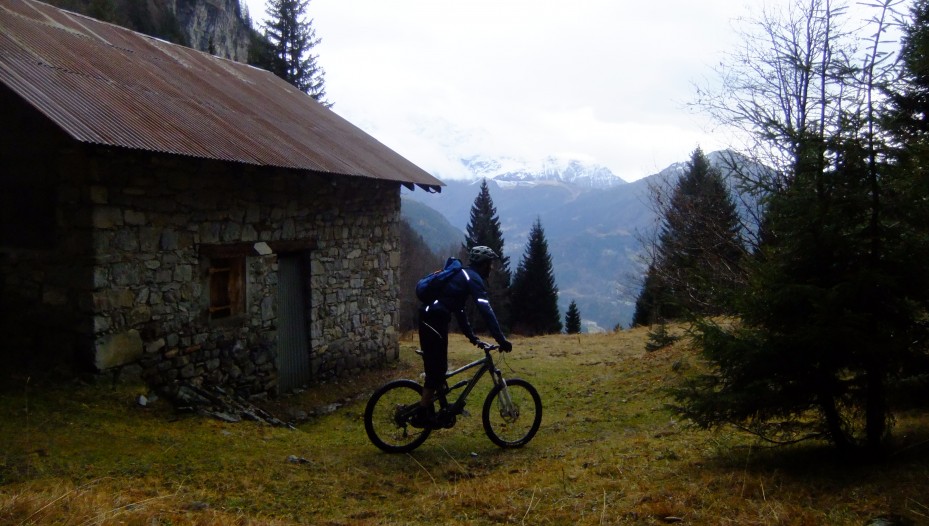 Filling our bottles from the fountain just past the Gorges de Diosaz hotel, we started pedalling up, noticeably slower than the first time! We still managed to stay on the bikes until the Trois Gouilles carpark, pushed up a wee bit further, then headed down.
The hillside here is littered with bike trails, natural and purpose built. Several of the Servoz youth used to build freeride trails here which have been gradually getting rediscovered and reworked. It's not Whistler, but it's a good sign of a healthy local scene.
All too soon we were back onto the old Servoz – Passy road, saddles back up and spinning round to town. With a little over 1100meters climbed on our enduro bikes, the legs were for sure feeling the burn. After a days "Scottish" riding, a raid of the fridge gave me only one option for lunch. Porridge and a mug of tea. Braw.
Looking outside the snow's on the ground and the buzz about town is definitely for winter,  not summer. Guess it's now time to go skiing to give the legs a rest.