It's December. The day of the longest night to be exact. Eleven days before the end of the year, and we're riding our bikes.
As a lefty-liberal-pinko-socialist who will talk at you for hours on why capitalism will fail as it doesn't obey the 1st or 2nd laws of thermodynamics, it'd be expected of me to launch into a rant about global warming and how it's all our fault here.
But it's christmas, you're saved, I'll be nice and no bother. Anyways, December is often a poor month for snow, often warm, often dry. Mibbies not so often good for biking, I guess this years that's the silver lining on the cloud. Not that there's been many clouds.
Still, I'd rather be skiing.
Tree skiing deep fresh snow in the cold of mid-winter is where it's at for me and right now it's not looking like a great winter for it. Instead of complaining though, we should be celebrating. This is the 2nd "bad" Christmas in a row. Another couple of these and the ski holiday trade will be scuppered, leaving a handful of operating lifts and hardly anyone able to make a living in the alps. The snow will truly be be ours for the taking, once them pesky locals who've grown up here and need us monchus, seasonaires and ski bums to work in their businesses and live in their apartments have had to leave town.
Not quite sure what we'll do to keep food on the table, but we can cross that bridge when we come to it.
In the absence of good skiing, we've been going for some good biking.
On the sunny side of the valley it's autumn. Hell, on the north facing side it's pretty much autumn! Either way, as long as you're not in the shade and below 1600m then you're safe from ice and snow. By the time you get to Servoz the conditions are perfect.
Dry empty trails, not too warm for the pedal up but not too cold for the ride down. The only complaint would be that the bronze carpet of fallen leaves might look picturesque, but it's a bugger for knowing where the trail's going or what might be underneath said foot-deep carpet. It's about as close as we're getting to riding pow for the now though.
If that's not enough for you, Les Gets is putting the bike hooks back on the Mont Cherie lift for this Saturday.
Still not enough? Verbier are giving free guided #enduro rides on the lower section of the Le Chable-Verbier gondola this week.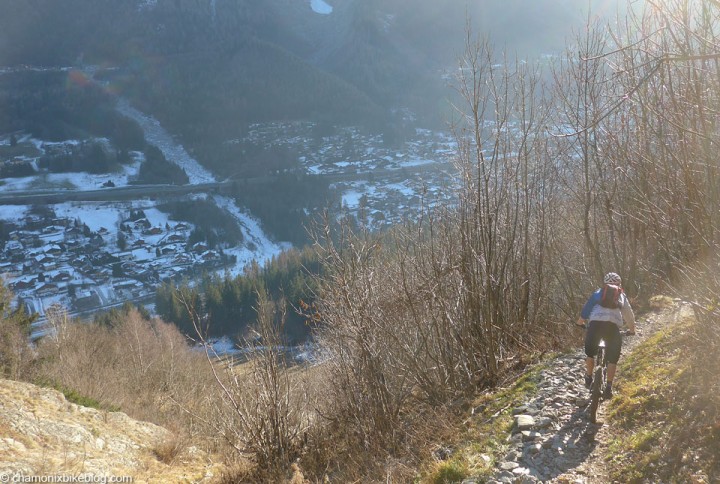 STILL not enough? Pila are already letting bikes onto the lower gondola. Get your days right and you can ride 3 countries in 3 days…..
Looking into the crystal balls of ECM, GFS & assorted websites I'm going to forecast that there'll be more riding of bikes had in the next few weeks, but 2016's a whole new year so let's see if the predicted wetter & warmer than average plays out.
So, there might be some more posts here this winter, or there might not. I'll hazard a guess at the next post being 12th March 2016, but don't hold me to it. Either ways, happy non-denominational winter capitalist fest (hey, I had to get my left wing killjoyism out somewhere) and check out Lorne's ski blog if you want to see much of the same but on 2 planks not 2 wheels.