"Chamonix Bike Blog" does imply a blog about biking in Chamonix, so I'll concede there's been some mission drift with the amount of race write ups from places that are not Chamonix of late. Dinnay fret, this one's the Coupe du France season finale so we'll be back to proper riding for the next month.
And it's my blog so I'll do what I want regardless.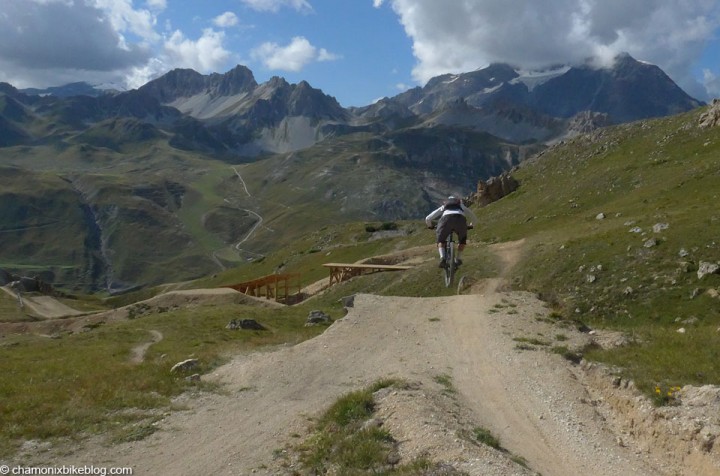 Tignes then. A mere 2hr away and the lifts are free, so Sandy and I headed over on Friday early enough to sample the trails. If your main experience of lift companies is in Chamonix it's a bit of a shock to wander into the lift office, be smiled at, then given a lift pass for nothing more than your email address. And a wee leaflet explaining that pretty much everything else going on in the summer is free too.
No idea where the money's come from, but they've spent a wheen on it digging and building trails. There's mile after mile of berm-to-jump-to-berm-to-wooden-feature-to-berm standing out sand yellow against the pretty much featureless grass of the alpine landscape. Forgot to mention that bit, Tignes is at 2000m altitude, the riding is above that, you're going to get short of breath. Or at least I did.
So after ragging about on both sides of the hill giggling off drops and chickening out of assorted gaps (I had a race the next day, it was being sensible not cowardly. And the gap's bigger than it looks) we got down to the town to find an airbag for bikes.
Free. obvz.
I did want to try a backflip, and considered nicking a BMX off a 10 year old that was hitting the airbag too. But then he looked fairly tough and he might have had a big brother of like 12 or something who'd beat me up. So I tried a whip. Pretty easy really.
Back to the apartment and part 2 of the team arrives, with Nina, Anna and much missed non-racing Spence who'd for some reason had decided that last summers sitting about in rainy carparks waiting to change a tyre, then clean bikes, then cook food wasn't the best way to spend his weekend and went riding instead.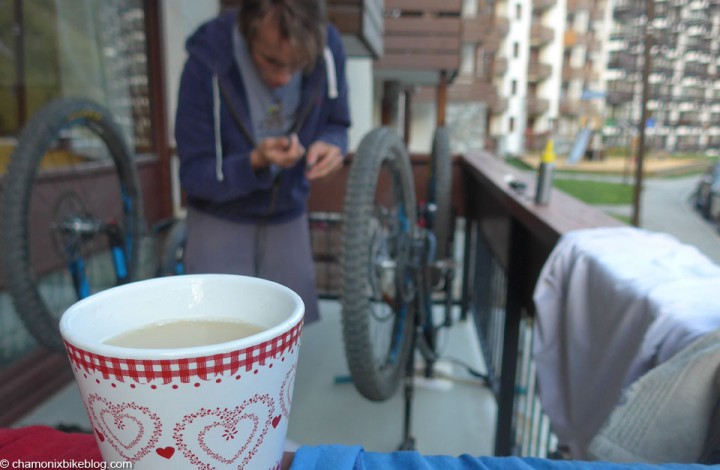 For the final round we went back to the rallye format of obligatory practice on Saturday then race day on Sunday, but with the wee innovation of a cheeky timed race run on the Saturday, giving 5 timed stages in total. Even better, the liaisons which helped the course wander between Tignes, Val d'Isere and Les Brevieres were downhill. Hell, one liaison was 800m vert of descent through bike park, it would've been a stage in most places. Instead it was the dangerous combination of relaxed cruising and long trains of racers trying to show off whilst pretending not to try. I don't think anyone got too hurt, but there were a few unforced mechanicals….
I like this format, getting a stress free day to cruise about the trails chatting to folk and not having to pedal too hard. What's more, I can run half bald tyres and try and save the good ones for race days. Hence I wasn't quite so happy about the 1 race run in the middle of the day, but that's what it was.
The specials were a welcome change from Valloire 2 weeks ago. Still quite physical in places, particularly S4, but with much more fun in between bouts of pedalling. If you want a better idea of how they looked, then there were pure hunnerts of photographers out there documenting. Try Velovert, Pinkbike and the event video.
Everyone seems to find their own wee groups at these races, generally with folk about the same pace as you. It should be cut throat competition, but mostly you end up cheering on and helping the very people you're trying to beat. Sport psychologists probably have fun with that one.
With such gladiatorial combat in mind it was good to be finishing so close to Anthony Martin and Sam Gerret. Like really close. Within .1 of a second at times. Even better, we all managed to get some stage times that we'd hoped we could do but to date hadnae. Sam killing Sunday's 2nd stage to go 28th (after sharing his headcam footage with me on the lift up, ta Sam!). Anthony grabbed 26th on the 3rd stage, only just beaten by me in 25th, less than 7% slower than some Jerome Clementz lad who's turned up to take the win for the weekend.
Anyway, a grand weekend of racing over and the series totals tallied, I ended up ranked 45th in scratch for the season. None of the top pilots rode the full series due to EWS clashes, but given the level of enduro riding in France I'm pretty happy with top 50, what with a full time job, no sponsor and all that. Better, when I start playing the "niche" game, I can jump to 39th if you get them pesky fast juniors, dames and masters out the rankings to leave only men aged 19-40. Then there are only 2 riders above me with nothing in the team column on the results table. I can even score 1st in the UK licence category…
Enough self aggrandisation, turns you blind or something. Was a great season, plenty of type 1 fun, some type 2 and no type 3.
As ever, big thanks to eveyone that organised the series. We might grump about various niggles over the weekend but it's a pretty amazing effort that's made to create these events and I don't think anyone's getting rich out of it somehow. Particular thanks go to the commentator who manages to pick my most exhausted and panting moments to try and get a finish line interview out of me. Also, Sandy, Sam, Nina and Spence for all your help, advice, lent bike parts, shared car journeys,random cooking and quality chat.
Next year?