"Finale Ligure is waiting for you" reads the tagline on the trail map. Which does kinda imply the next sentences are "Outside the school gates 4 o'clock. Finale's gonnay pure batter you." showing the problem of speaking second languages and context (ever flown from Prestwick airport).
Once again the original purpose of this blog, to give mtb trail information for Chamonix, is getting ignored and we're off on holiday to Finale Ligure where there's plenty of sunshine, absolutely no snow and it's not Chamonix.
We weren't the only ones, ascension weekend holiday meant a 90mins queue to get through the mont blanc tunnel and enough familiar faces from here, there, that chamonixbikeblog maybe is a valid title still.
It also meant that our plan A of getting some uplift in was scuppered by several thousand teutonic bergfahradders (languages have never been a strong point of mine but I hide it well) getting there first. Fortunately the friendly folks at Evolve managed to squeeze us into a van up to Din, meaning we only had to do about 2500m of climbing on tarmac roads over the 3 days riding.
Accommodation was in short supply too, however we'd been offered space in an apartment rented by several ex Chamonix Irish lads. Accommodation is always a bit of a lucky dip down in Finale. Airbnb has all sorts of weird and wonderful choices but you never really know what you're going to get until you walk through the close door.
Andy certainly lucked out on this one. Walking though the close door, a massive green barn gate just 50m from the main square, the hallway stretched out infront and past the series of marble busts into a never ending staircase lit from the side like all the best mafia films. Efficient use of space never gets priority when you've briefed the architect for full ostentatious, so the theme of big rooms continued all the way through. The apartment might have been for nine in Finale, but drop that place in ChamSud and you could rent it to a couple dozen Swedish ski bums nae bother.
Finding the best trails in Finale is easy. Ride up to the top of a hill, look for a trail dropping into the woods, follow it and you've just found the best trail.
Of course, it might not be the best trail for you, but someone out there will like it.
With only one lift up a hill available for us, we were pedalling up the tarmac a lot, and when it's your own power getting you up the hill you generally want the trail down to be best for you. Trying some of Spence and my favourites from trips past didn't completely work as trails like DH Donne and San Michele have a had a fair old kicking over the last couple years and now have more resemblance to a gravel quarry than the tracks they once were.
Still better than most mind.
The other issue was the ever so slightly unreliable nature of my memory as once you've been to a few thousand trail heads they all kinda, sorta, look a bit the same. So we didn't always hit the trail we were aiming for but it didn't matter as frequently what we ended up on turned out to be better anyway.
As good as riding trails you love again and again is, I can't get enough of finding a new favourite trail and fleeing down it for the first time not knowing what it's got for you next. The highlight of the trip was getting in the Evolve shuttle bus on Saturday morning with a group of German and Swiss riders, getting asked "NATO or Din?" and them saying Din. So we went to Din and worked it out.
This wasn't as blind as it sounds, Andy had ridden up near Din before and raved about the trail Isallo Extasy, so we pedalled about for a while until we found the spot and dropped in. The trail had been destroyed by forestry work about a year ago, but one inspired local had spent 8 months refurbishing and perfecting the trail. There probably is a better way to descend 800m, but I'm struggling to think of a more complete trail.
The rest of the ride back to Finale didn't drop the quality either. A 330m climb up the road from Magliolo was going to drop us into the cancelled stage 1 from the 2015 EWS, the (THE) trail of the race and almost everyone's favourite from practice. Alas I got a bit lost at the trail head but what we ended up on, Kill Bill I think, was every bit as good. Possibly better for me as I had no idea where I was going.
A quick stop for coffee in Calice Ligure and another 300m tarmac climb got us to one of the 2014 EWS highlights, Neandertal. Fortunately Spence had ridden here before so we managed to ride the right way down a trail just as good as we remembered (though not before I clocked another trail I could get lost on…) followed by a happy cruise down the road to the coast and gelato.
Gelato, coffee, pizza, aperitivo. would Finale be what it is without these things? The main square was almost as busy as race weekends with bikers "rehydrating".
The last trail of a trip is a tricky one, it's going to be the last memory of the holiday so it better be good….do you finish on a well kent classic or take a gamble on something new? We gambled and for the last bit of pedalling headed back up to the Rocca Carpanca to try the Pino Morto trail I'd spotted the day before.
It took about 25m to know we'd made the right choice. It's not the best trail ever, but for simple dumb enjoyment it's hard to beat. Fast and loose with catch berms and little kickers in all the right places to keep speeds high, you just kept dropping and rolling through rock gardens, bobsleigh sections and whoops. Whoever built it found the perfect formula to make you feel like a way better rider than you are. Three well excited kids skidded out the end of the trail into the dust, the right way to end the trip.
Turns out we only got the slightest kicking fae Finale, which is good. The bikes got rather more with some impressive creaks coming from all manner of parts by the end, but still, no crashes and only 1 puncture between us would suggest Finale would never be much good at being school bully.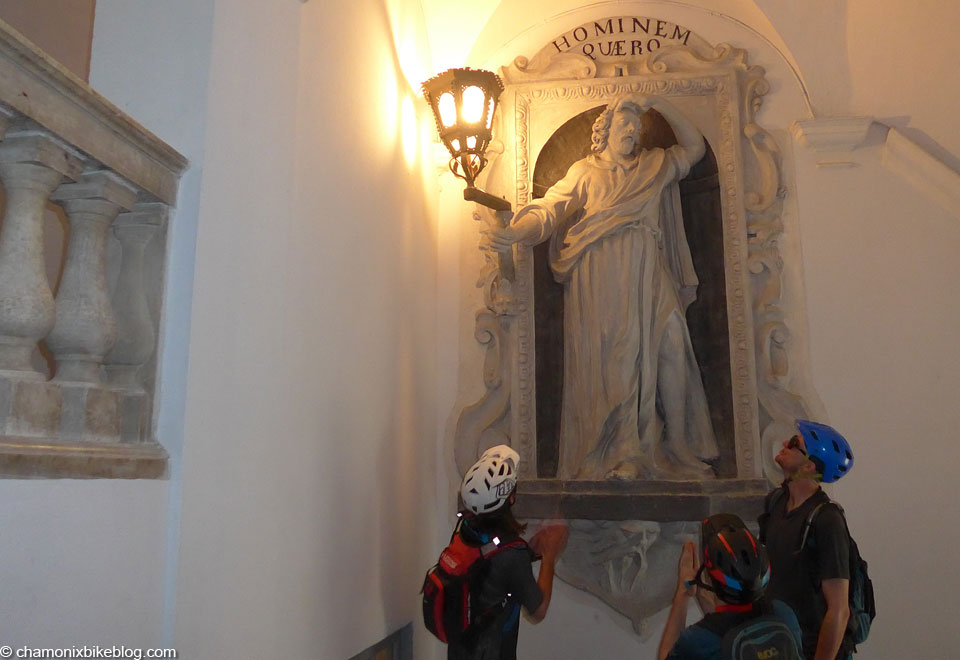 A load of shout outs here for the trip, to the assorted German, Swiss and Austrian riders we bumped into who seemed more happy and excited to be where they were than I thought possible and also had the organisational skills to bring GPS units to direct a bunch of Scots who were navigating by guesswork, to the folks at Evolve bike shop for sorting out a shuttle when it shouldn't really have been happening for us but most of all to Andy and the lads for inviting us down to piggy back on their holiday and let us stay in their apartment, hope the rest of your trip was a grand as the start.