Climbing, skiing or biking, Aosta Valley has got some of the best lines you've ever or never heard of.
Year round good weather, stunning backdrops of some of the biggest and best hills in the alps, coffee, pizza. There ain't much it hasn't got. During three weeks in Canada I would be looking at friend's instagram feeds full of rides in Aosta and suffering serious #fomo. This tell us that 1) society (or mostly me) has an issue with living in the here and now, and 2) Aosta is really that good.
So, after getting back to Chamonix I was pretty happy when one of the first messages I got was from Ross suggesting a trip through the Mont-Blanc tunnel to go ride in Aosta.
The first contrast with B.C. was as we loaded four bikes and riders onto and into a European spec estate car. This procedure is considerably easier with a pick up truck, however I consoled myself with the knowledge that said truck would use more fuel backing out of the driveway than we would for the 100km round trip, even with detours for coffee.
Bad omens continued as we had to dingie our first choice of cafe as the Carabinieri were parked outside, which was where we planned to park so we could keep an eye on the bikes strapped to the car. Second choice was closed for the day. Fortunately next door was serving and 1.10 cappuccinos could start pointing the day in the right direction.
If I'd been paying more attention I'd have followed Davide's lead in getting a croissant and espresso chaser, but I wasn't paying attention and so had no idea just how high Ross was planning on making us ride.
From the carpark in Degioz, Valsavarenche, there weren't any more clues either, as Ross pointed to a series of switchbacks on a 4×4 track leading up a hill before adding "then it goes up to a col over there", and we set off up the trail.
Ross soon pulled into the lead, unsurprising really given that despite being a life sentence skibum he is fit to the point of owning a road bike. A road bike that he's taken for casual laps of Mont Blanc. In a day. He's also smashed his back up to the point where he can't really walk, or stand, or sit, so his only option was to keep pedaling until he fell off or reached the top.
We'll never know which it was, as Dave, Davide and me set a more relaxed pace up the hill because it's Italy. You either do it at a steady relaxed pace, flat out, or not at all.
As we pulled above the tree line and the full views of Gran Paridiso and the remains of its glaciers came into view we met a signpost which finally let me know where we were going, the Col Entrelor at 3002m altitude.
3002m is pretty high. Maybe not for climbers, maybe not during ski season, but for a biker attached to mechanical uplift who'd not been above 2500m for 6 months, getting to 3 kilometers above sea level was going to be quite painful. At least I had company.
The climb continues through alpages, past barns and refuges and small lakes, over the occasional bit of frost and disturbing assorted herds of Ibex and chamois. Another advantage of Aosta over B.C. there, the wildlife is lower down the food chain than mountain bikers.
After continuing for quite some time, the climb stopped and the col arrived, complete with views down into Val de Rhemes and beyond. We could now turn round and come straight back the way we came. Futile fun.
Normally I'm no a fan of there-and-back rides as I'd rather not see what's coming up on the trail, ruins the surprise. This time however the combination of altitude, sun and overall height climbed meant I'd completely forgotten everything before dropping in, so the whole descent was an unknown present to open.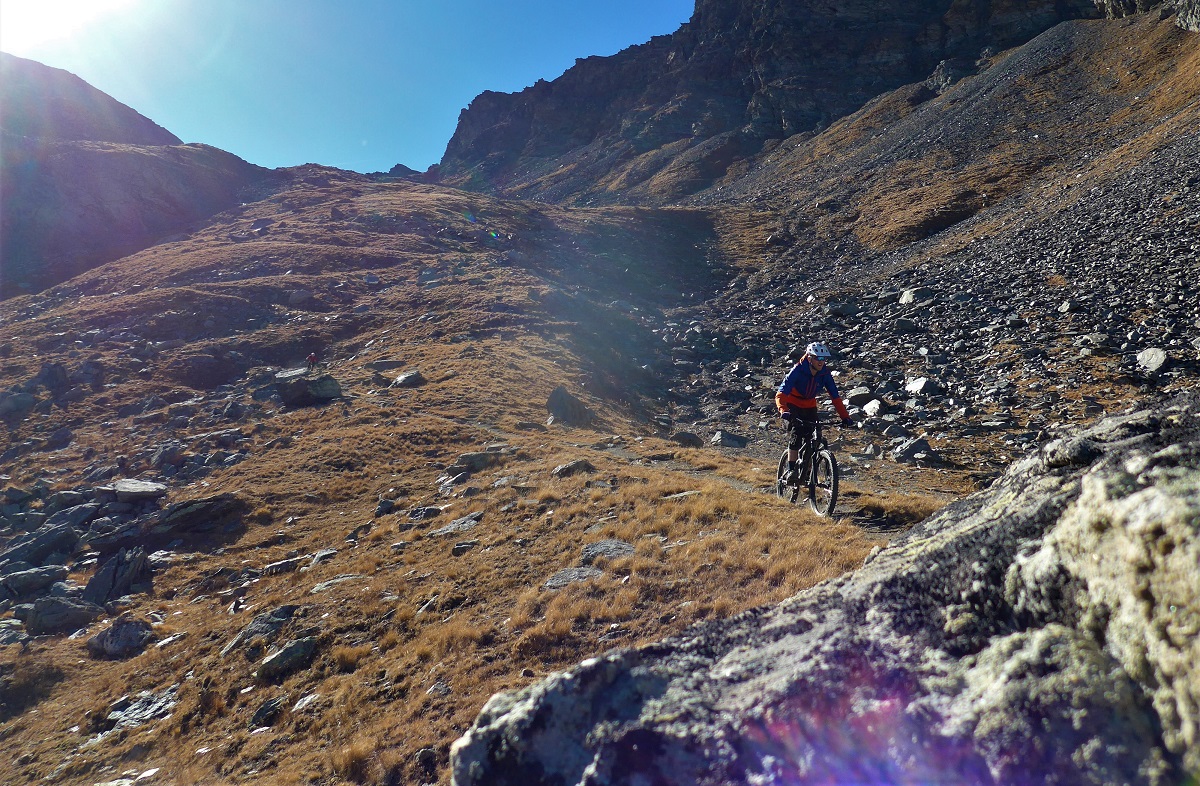 And what a treat it was too. Other than a couple of one meter sections where the trail narrowed between rocks and fear of ripping off a derailleur or brake disk encouraged the prudent use of a foot to guide the bike through, the full descent back to the tree line was fast and flowing singletrack with just enough wee drops and rolls to keep you on your toes.
We had feared that the quality of the trail was going to drop as we re-joined the 4×4 track that had given us the first 650m of ascent but no, a right turn onto the trail down to Eau Rousse saw to that.
You'd think all bench cut alpine trails through the trees would be the same. They follow a fairly similar gradient as they traverse slopes too steep to walk up (or ride down) directly, feature 180 degree bends every so often, and generally have roots cutting across them at right angles to travel. Yet, all over the alps, some are just a bit better than others.
This trail was better even than those. A well built bike park line lets riders of different speeds and abilities to play with the terrain and find airs and gaps and features to play with. This trail did the same, despite being made long long before anyone considered it might be used as anything other than away of getting from A to B. Makes you wonder how many other lost trails out there could be resurrected to do the same…
No matter how good a trail, it always ends. Probably for the best, I suspect on the third or fourth day of continuous descent it might get a bit samey and you'd want to stop for a coffee break.
The trail ended, we span the short distance back down the road, loaded the car and began a new quest for pizza. No doubt some other bikers in some other place were having a better day on a better trail, but I really didn't feel like I was missing out today.