"No time to explain, can you leave for Macedonia on Monday?"
Is not the exact message I got from Luke, but it's probably only out by 4 words. Due to chain of events too arcane to enter into here, Luke was in the process of arranging a promotional trip to Macedonia and Albania. A crack crew of MTB journalists, photographers, tourism industry operators, guides, social media influencers and an actor were to head to Skopje for a week of magazine article shooting, promotional video interviewing and development of MTB tourism advising in the aid of promoting the new High Scardus MTB trail.
On Monday.  
Then Wednesday.  
Then Thursday.  
We left on Friday*. 
Amazingly we all arrived, with bikes, on Friday too. Trundling out the covid secure space of Skopje airport into the evening light and waiting crowd, Dimitri was easy to spot. To be fair, with our lost looking expressions and massive bike bags we were easier to spot, but a smiling face, waving arms and "hey guys, you made it!" was hard to miss from his end too.  
Loaded into the 4×4 van that, unbeknownst to us at the time, would prove to be the greatest vehicle ever made and had even been spotted from the plane on the autoroute below (you can trust a bike guide to spot the shuttle rig from several km above) we headed to Skopje, unpacked, went for a donner about the centre of town (they do big fountains very well, and landlocked boats with political analogies) before heading for food with Dimitri, Stojan, Risti and Goran, some of the many folk behind the trip. 
Enough of the set-up, some riding. Day one trail one came after a long drive and a short pedal to the rounded peak of Skopska Crna Gora high above Skopje.
This was not a known trail.
In fact, this often turned out to be not a trail at all, we were on a scouting mission with some locals. There was a lot of an old trail in there, under the bushes and behind the trees. And once it's been cleared out it'll be pretty mint. Today though it led to a lot of scratching of any exposed skin. It didn't only lead to that though, it also led to the village where the same local riders had laid on a lunch of epic proportions in Jorgos's back garden.  The fire pit was already reaching the embers stage ready for the food to start grilling, salads and veggies were being washed and chopped in the water fountain, beers appeared from the fridge and toasts to the promise of future trails and trail building were made. 
We weren't done yet. The second trail came at the end of another shuttle, but now only because covid restrictions kept the telecabine closed. On Vodno hill above Skopje sits the millenium cross, which at 66m high makes it pretty easy to see where you started. It's worth remembering too, cos this ride was a lot of descending on a trail straight outta Finale, all the way down to the capitol. That's hard to beat!
Back into Stojan's mighty van and a 2hr drive off to the Popova Shapka ski area where the Scardus Hotel serving staff had been kept up until 2300 to finally serve us food.
This was a pattern to be repeated.
Full value was had of our week.
One of the many advantages of milking every hour out of a day is that if you arrive by night, the morning views are an unknown. All week the 2 token grumpy old Scots (that'll be Ross and me) were put in a room together. As we eventually made our way down to the terrace to join the enthusiastic youth for breakfast we discovered we'd been transported to the Cairngorms.
Who knew the High Scardus trail went so far west. 
And then we rode e-bikes. Which was interesting and a fine example of what e-bikes are great at; covering big distances easily, turning steep fireroads into fun experiences and powering through unlikely river crossings. But will be skipped over in the interests of moving the narrative along (after saying a big thanks to Mihail and Metodi of Sharoutdoors for the experience and pointing out you should really, really check out their skiing options), and we fast forward to being back on our own bikes and Stojan leading the charge out of Popova Shapka headed for Tetovo far below. Yesterday's yin and yan trails were kinda repeated. After a cruisy morning of battery powered assistance and scenic gravel roads we were back on singletrack.
Which was plenty fun, but we were finding the cultural distractions to be the real interest.
Article one, a recently abandoned ski lift which had taken folk from near town up to the ski area. Or had until in about 2001 the Taliban decided it was a legitimate target and bombed it. The only time we saw any sign of sectarian tension in the whole trip, and if you're from the west of Scotland, you're usually quite good at spotting that kinda stuff.
Article two, once down in Tetovo we headed to the colourful mosque of Sarena which was exactly what it said on the tin. No shorts, no uncovered heads so we assumed we weren't getting a looksee, but the gardener was having none of that and ushered us into a serene space that could have been in Kyoto instead of Tetovo. Glimpses of women inside pointing out the window and laughing at us whilst the mosque cat ambled about hawking for attention only added to the experience. 
Back on the road for our next destination. Mountain Hut Caravets. A hidden wee lodge in another of Macedonias hidden wee ski areas. 
Some notes I made after tea;
Sat in a wee nook in the house, 12 round a table best for 8, we start eating. And drinking, as these go well together. Raki and aubergine sauces are the highlights. Chat moves between skiing and biking, which shuttle vehicle is best, cherry chocolates or mints, the history of Yugoslavia (complex and painful) opium and 9 other facts about Macedonia.
Throughout we eat. And drink. 
Maybe it's because we've all had a few days together that we've now relaxed into each other's company, but after several days of luxury surroundings and beautifully presented (and delicious) food it's in this rustic mountain hut with plenty of rustic but tasty food served by our hosts Vladimir, Sonja and an aussi/columbian volunteer couple that we all seem to have relaxed and gelled. 
The next days dawns a little fuzzily….
Macedonia claims to have 300 annual days of sunshine. This doesn't mean that it's out of practice at raining.
Today it is raining.  
However, we have a lot of photos to shoot and Luke isn't one to let a bit of water get in the way. Team culture load up with Stojan and head off to enjoy the riding around Mavrovo ski area. Although still in development, by the time this bit gets published it will be home to a fully fledged bike park. Team media meanwhile get dropped in Galichnik and waved off in the direction of a scenic trail to Janche to go make the media magic happen. 
Fortunately we were doing it on a banger of a trail. I say fortunately because shooting photos generally means riding the same bit of trail 'one more time' many times as you try and get the light, body position and facial expression to the liking of the camera.  
Obviously, these things take time. Slightly more time, it turned out, than we had. The sky lit up with lightening. The air thrummed with thunder. We were stood up riding bikes and drowning. Soaked to the bone we floated into town, found the hotel, removed as many clothes as was decent, left them in a sopping wet pile at the front door and squelched into a hotel so vast and ornate it had a FIAT 500 as part of the dining room decoration.
We looked slightly out of place. 
Next day. With Martin and me swapping duties as token EU bike guide, I joined Team Culture and Martin headed off for a day with Team Media. This was a good call. With locals Stefan and Viktor joining us, Stojan was a very excited lad about to lead the first ride of a trail they had been building.
Things started auspiciously enough with leaders of the flowy traverse sending two black bears scampering across the hillside. You don't see that often…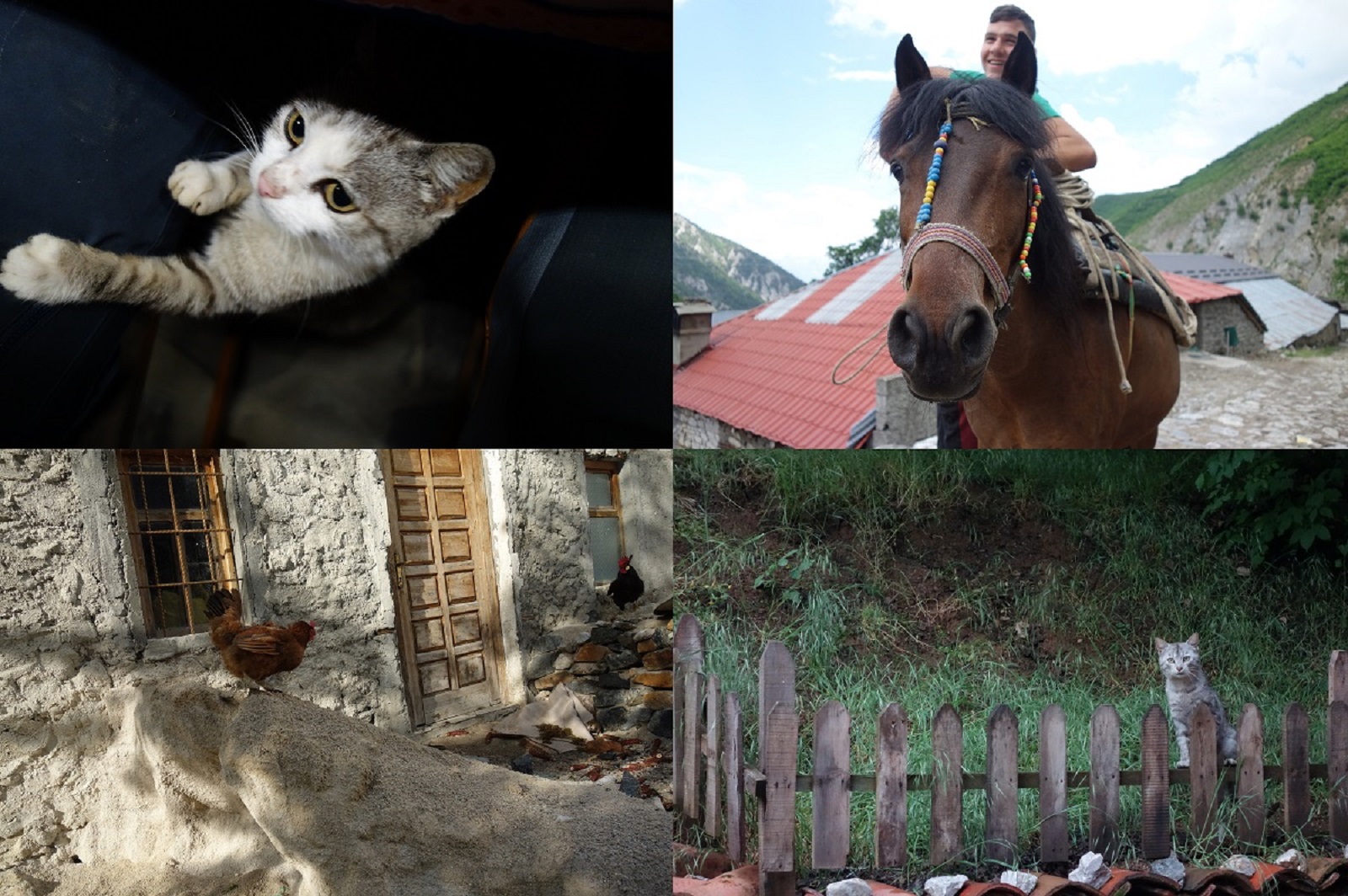 The trail kept delivering. With a blank canvas of gently rolling hillside, Stojan and the boys had made that rarest of trails, something that's fun for all standards. Scandi flick hip wiggles and small gaps if you're running hot, supportive berms and open lines if you're feeling a bit more relaxed. A pause at a wee village before we hang a right and hit the lower section. Similar vibe but this time in the woods and a little tighter, a little more technical.
And also, still with bears.
Stefan getting the fright of the day when he slaps a berm to be presented with Yogi sprinting off down the trail in front of him. He relinquishes leading the train for the rest of the ride.  
We didn't take much convincing to get a bonus shuttle back up for a second lap of the lower half, stopping only to coax team Media further down the hill so we could all head for a beer.
The light was going anyways.  
Let's step to the side for a moment. If we just wanted to ride sick trails, we could probably have stayed at home. The Alps aren't exactly short of options for that. So if we'd not gone on the trip because we were only interested in the trails, we must have been interested in the difference.
Differences like the dusty corner above the village we were sessioning for the camera that was soundtracked by the call to prayer.
Like cruising into the village after this, looking for a bar, high fiving every kid as we rode past before getting into the bottles of Zlaten Dab, 
Like taking a detour on the road to Albania to visit the Monastery of Saint Jovan Bigorski. 
As Dimitri had already told us the story about him and his friends sneaking into the mosque as kids and swapping the tape of the call to prayer for a tape of Iron Maiden, we weren't expecting a great deal of reverence for this visit. I guess it was a bit different. Conveniently as we walked through the massive gates we were greeted by an elderly monk with a beard. A quick chat with Dimitri later, where we discovered there's no word in Macedonian for "Social media influencers" and we were granted permission to wander about and photograph what we liked. It still didn't really feel right for me, so if you want to see what I'm describing, try this. Which has better photos than I'd take anyways.
So after our introduction by the elderly monk, who it turns out is one of the most holy men in Macedonia, another brother proceeded to give us the tour, seeing the bones of John the Baptist and a shard from Christ's cross (the gold standards of relics) and then the most intricate carvings I've ever seen in a church. Actually, the most intricate carvings I've ever seen ever.
Outside the shrine another brother walked up clutching a box. Expecting him to be performing some crucial administrative task, he instead wanders over and produces an ice cream from the box. Did we want any? They had too much and it was going out of date. 
You don't get that in Chamonix. 
Off to Albania 
Which was much easier to write than to achieve. Given these times of covid anxious travel, the formalities of vaccinated or PCR'd border crossings were easy, the issue was having to prove we were taking our bikes into the country, so we could prove we were taking them out again (strangely given Albania's reputation, they seem keen not to let vehicles leave suspiciously. Entering suspiciously is just fine however….) Then there's the general unease you get when held up at a dark border post when you've grown up in the Schengen zone on a diet of cold war thrillers. Like, is it really necessary to have such a long no man's land between the last post of Macedonia and the start of Albania…?
Anyway. Into Albania we drive, and obviously the first vehicle we see is a Merc. 
We'd been warned that the roads in this region of Albania weren't quite the same quality as down by the coast. At least it kept average speeds down. We turned off the potholed main road onto a back street. We progressed through increasingly interesting lanes until we bumped off the tarmac and onto the gravel. Food and tonight's bed can't be far away?
Thirty minutes later, it still can't be far away?
Forty five minutes after leaving the road we were starting to wonder if there was any truth in the organ harvesting rumours.
We needn't have worried. After a truly heroic piece of trailer reversing by Stojan we were safely in Guest House Sabriu, our home for the next 2 nights. We sit down at the outside table to beer and inquisitive cats and assorted pancake delights and Raki and any tension disappears into another night of laughter and bad translations of the worst yet best jokes you've ever made.
A moment in time. 
We go off roading. Orgest, our Albanian guide for this leg of the trip, has a beast of a Russian made 4×4 jeep. Stojan has his Japanese 4×4 van. National pride is at stake. Orgest takes an early lead, buoyed by a combination of local knowledge and, perhaps more crucially, a huge rear mount bike rack as opposed to Stojans 10 bike trailer. Not to be outdone by the Russian bear's lakeside driving, the Japanese, err, also bear goes for some 3 wheeled off camber. Things step up when tasked with a shuttle up to the top of Maja Grames at over 1800m.
I don't care how extreme the shuttle driving is at Bike Park Wales, it ain't this!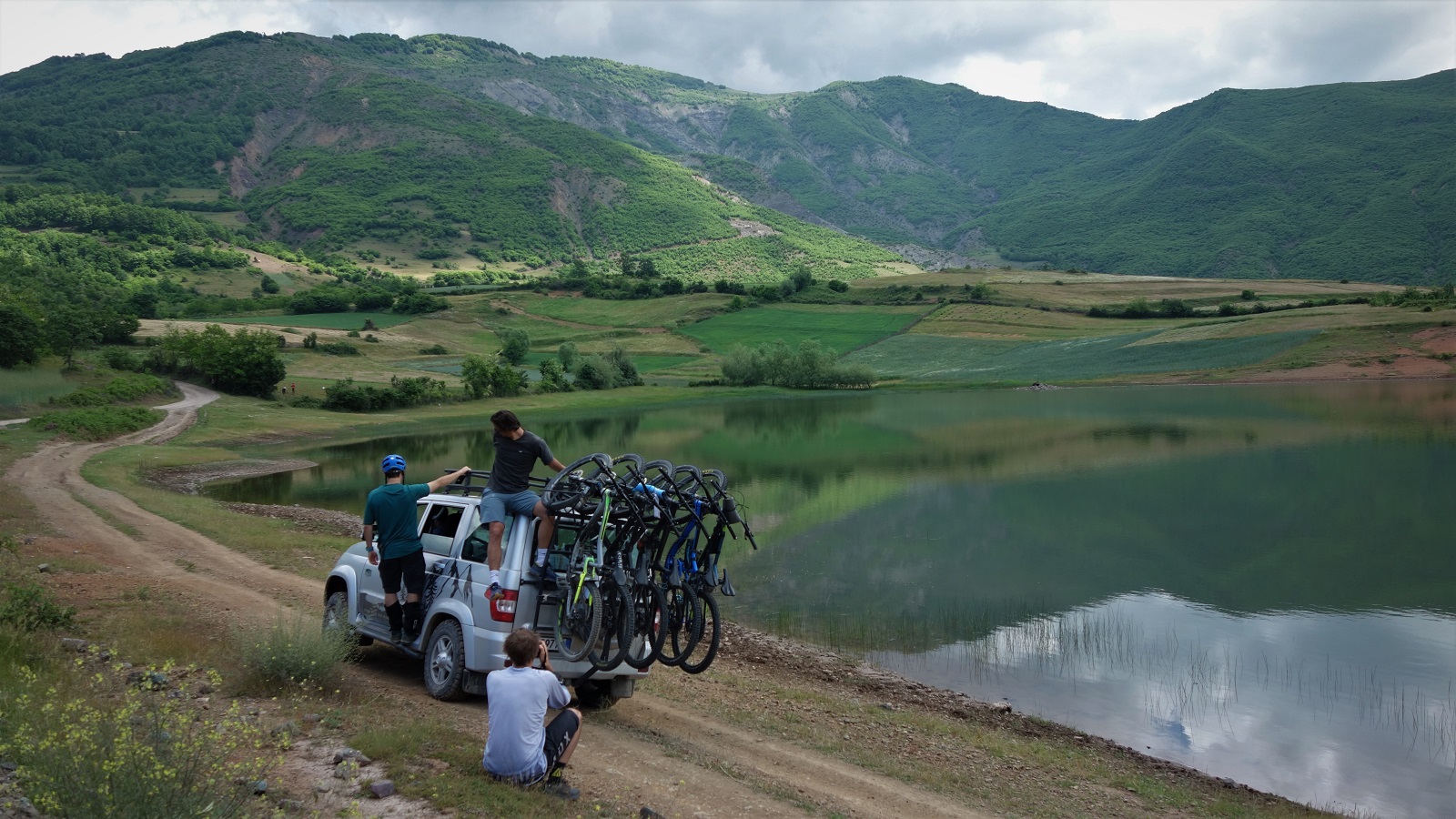 Orgest wasn't taking us up here just for the fun of the driving mind. Although that was for sure part of it. Nope, he'd promised one of the most diverse trails in Albania, along with their red hued version of France's Terres Noires or Utah's rampage.  
About 30 mins after leaving the shuttle drop off the sky decided that this day of epic views wasn't to be and started falling.
Heavily.
Then added in some thunder and lightning for full effect. Orgest (having passed control of his Russian jeep to Risti, who was looking forward to something a bit bigger than his usual quad bikes to play with….) wasn't phased and simply opened the door of a heaped collection of corrugated iron and carpet that turned out to be shepherds hut. I wouldn't want to sit out the winter in it, but for passing showers you couldn't have done better.
Not only that, but it gave Luke, the actual photographer, and Michel, the actual actor, a chance to show the rest of us how content creation should be done. You wouldn't think it was possible to make a mess of opening a door and looking intrigued, but we proved time and time again it's a job best left to a professional.
My camera's battery then died. 
Content captured and random puncture repaired we headed off. Sure enough the trail was exactly as billed. Fast and flowing singletrack traversing round the hill on a fast surface leading into increasingly steep but consistently entertaining fluted terrain of grey dirt. Then white dirt. Then red dirt. The downpour meant a fair bit of the trail was collecting colourfully on our downtubes and I'd be lying if I claimed there was great amounts of traction, but it was far better than what happens at the Terres Noires. 
Not only that, it kept going. We got lower and lower but the interest remained. Eventually the ribbons of red dirt through the lush bushes gave way to more traditional singletrack. What wasn't traditional for us was the tortoise slowly traversing the trail. Bears and tortoises. If only David Attenborough rode. 
Obviously on a trip like this you're getting to see the best of the smorgasbord of singletrack options available, but Orgest had dug out an absolute stunner for us, probably joint best trail of the trip and one of the best of the year too.
And it still kept going. All week Dimitri had been raving about big open fields of grass to freeride across. I'll be honest, none of us were really getting it. Can we just have some singletrack please.  
Riding four abreast, popping off rises and lips, freedom to turn and skip where you want, the landscape stretching out ahead of us…. We all got it. Honestly, just so much fun. 
Being in Team Culture meant we hit the bar long before Team Media got off the hill, time to sit and drink the conveniently apposite Skopje and Tiriana beers, chat to colourful locals, listen to stories of Albania past and present and maybe future, and watch whilst the youth took goes at riding our bikes whilst hoping none of them got run over by the near constant stream of Mercs and Audi' s cruising past our roadside bar. I think this was pretty much what we'd been looking for. 
It'd be easy to describe the riding in detail, but that's not really the point of a trip away. Far more interesting was turning up at a 200 year old fortified house, drinking beers on the balcony whilst the fattest rain you've ever seen falls outside (rather than on you as usual) then listen to the stories from Lulzim, the house castle owner, of his great grandfather fighting off invaders before yet another incredible meal and night of raki and laughter. 
We don't just get to travel through space to find the, to us, unusual. Looking back a year at the complexities of cross border travel through peak Covid seems bizarre even this close. Time that would be spent riding now saw us going for PCR tests to let us travel home the next day, strolling through the town of Peshkopi with Orgest explaining all the things a local can see and a tourist can't. The way you could tell the period of communism a building was built in by the bricks, the hidden messages in the street art. And getting to eat in locals cafes, banter in broken English with the obligatory hoards of kids that appear whenever in an urban environment with bikes and cameras. We were all here to see and be somewhere different, Peshkopi delivered.
The journey home is never to plan. Traffic problems, too long at breakfast, too long over lunch, too long to pack bags. We never got to do our planned urban ride in Skopje. Instead we got to chat longer and have more time to awkwardly say goodbye to the legends Risti, Stojan and Dimitri at the airport, plans made to see each other again, possibly sooner rather than later for those of the group who weren't sure if they were getting back into Zurich airport….  
We checked in and were told to leave our bikes in a corner of the again quiet airport. As we got onto the plan the same guy told us the bikes were on the plane. Thanks for the personal touch, from everyone we met, I don't think you realise how much it meant.  
This article couldn't have happened without the trip, and the trip most definitely couldn't have happened without the generosity and hard work of:
– Active Experience Balkan – The North Macedonian based tour operator, also offering trips in Albania and other Balkan destinations.
– Association For Active Tourism. The tour operator, Explorer 2018 invited us on an 8-day journey in Macedonia and Albania to promote the trans national MTB product – Riding along High Scardus Trail. This project was founded by GIZ from Macedonia and thanks to their financial support we have the opportunity to visit these two countries, their people, traditions and culture
– OHRide – The hidden MTB paradise in the heart of the Balkans
And most importantly of all, Orgest, Rishi, Stojan and Dimitri who showed us experiences of their countries we would never have had without them and put so much effort into making the trip a success, thanks so much guys.
This article is also the kinda behind the scenes, less-about-the-bikes-more-about-the-place version of the story of the trip that'll hopefully appear in IMB Magazine one day, which in turn was talking about Luke Jarmey's piece in the ever excellent misspent summers work, Spent and MBUK. I know, complicated innit.
*When I say Friday, I mean Friday 4th June 2021. Yes, it's taken a while to get this online.