About now I should be busy working, showing riders mostly from the UK or US around amazing alpine trails that I know really well. But, whilst life is a fair chunk of the way back to normal here in France and most of Europe, the UK and US are taking longer to control the pandemic and a summer biking holiday isn't on the cards for most folks.
Lots of other MTB guides are in the same boat, so we're off exploring new trails instead.
Somewhere a little over four hours drive from Chamonix is a mythical place where the food is cheap, the sun shines 300 plus days a year, and the trails are the golden flowy perfection of bike magazine covers.
No, not Italy, the Queyras. And conveniently Emily of The Inside Line was headed over there to scout out more trails and get some quality #content to use to persuade the world that they should be booking a holiday with her to ride said trails. Which is why last week I packed up the car and headed south over a road bikers dream of cols. Dream / nightmare, the cols Telegraphe, Galibier, Lautaret and d'Izoard are things of legend. One for another day.
As the trip was for a mix of searching out potential new trail gold to mine as well as filuming known trails there was a lot of working around the golden hours of early morning and late evening to get the perfect lightbro. I hate mornings so was happy to be starting out at the respectable time of 5pm to go and bag our shots.
Sure enough, an hour or so of pedalling from the Col d'Izoard later we were above a mountain lake, staring towards distant mountains that framed a sinuous snake of singletrack, and bathed in soft evening light.
…and discussing how best to shoot it. Which usually involves riding the same bit of trail several times over to get footage from umpteen angles whilst I alternate between washing out the front wheel and forgetting to turn when I reach the corner. Pattern set for the week.
Shooting done we could enjoy the hundreds of meters of flow through the forest, and move on to the carpark that would be home for the night.
Sun comes up, time to ride bikes again. We pedal through the ever so slightly odd village of Abries, and up tarmac then gravel towards the morning's objective. Slightly odd, very odd might be better. For reasons none of us felt like exploring, Abries has chosen to populate the sleepy streets with assorted stuffed mannequins performing the mundane tasks of everyday life. Whatever gets you through lock down.
Every meter pedalled was a meter away from the village and towards our trail however. A lovely thing of a trail. Starting up by an idyllic alpage, swooping serenely alongside a meandering river, in and out of copses of trees and meadows of alpine flower, round a mellow unsighted corner, into an obligatory gap jump drop over sharp spiky shale.
It was a slightly unexpected change in character, mibbies the unstable terroir explains some of the unstable mannequins? Eitherways, it was dispatched and photographed and we continued on past churches and yet more flow. A reminder that alpine trails pretty much always have a surprise of some sort for you.
If the morning's trail was about getting footage, the afternoon was about checking out a promising looking line Emily had seen on the map. Without the shuttles you have when guiding it was going to be a bit of a pedal, but how bad could it be really?
Up some road, then some gravel road, then some 4×4 track, we should be able to pedal all the way to the top. And we could, but it was definitely a bit more than any of us had accounted for. Talk turned to trail snacks, peanut M&M's, Bombay mix. All our food was long eaten.
No matter, the views were grand and we traversed happily round from the top of the climb to the start of the descent. What did matter was the trail had washed away. A work around was found, and lo, it was flowy.
It stayed flowy. From wide and open top, into thin, then thicker, trees. Snaking straights with sick hairpins. Seen just enough traffic to have a bike line worn in, but no danger of brake bumps. Banger all the way to end. Best trail I've ridden in a long time.
We got back to the van under cloudy skies and destroyed every unattended salted crisp, peanut and beer bottle in the van.
Another morning and blue sky again.
We were going for another explore, a look into the unknown, but with the comfort blanket of sections of the trail having been visited before. Known unknown's if you like. After yesterdays unknown unknowns we stocked up on stoke, food and drink. That mistake wasn't being repeated.
The climb was hot and sweaty, 1250m of up in the middle of the afternoon so you can summit in time for golden hour is only ever going to be hot and sweaty, but with some picture perfect wee hamlets to stop in and some stunning cols to admire the views from, it could have been a lot worse.
Even better, the trail to the 2500m summit that looked pretty marginal on the map turned out to be one of the most rideable bits of the climb. A rewarding bench cut track working its way round corners that kept revealing more views and more interest. The reccy bit of riding is where it's at. What's over the next ridge? The joy of exploring that got so many of us on bikes as kids.
No matter how agreeable a climb, 2545m is 2545m. A semi derelict observatory post was a fun distraction, but we all needed the rejuvenating powers of cheap sugar and e number laced sweets to get us ready for the descent.
And whit a descent. Bit loose up high on the grey rock, but fun. Contouring round the hill inbetween hairpins. From the Col de Fromage a wee traverse drops into a Queyras classic. Maybe a few too many rocks on the trail to truly call it flow, but shit tonnes of fast straights and just supportive enough corners.
Turning off the worn line to cross a bridge and the trail changes character. Less angle but still just enough for you to pump more than pedal. A lot more than pedal. Beautiful swooping balcon trail through a stunning forest with lush grassy forest floor. A briefest of shower from the clouds that had been building all afternoon couldn't ruin the mood, just improve the light. Sunlight dappled through the trees with beautiful rain drops.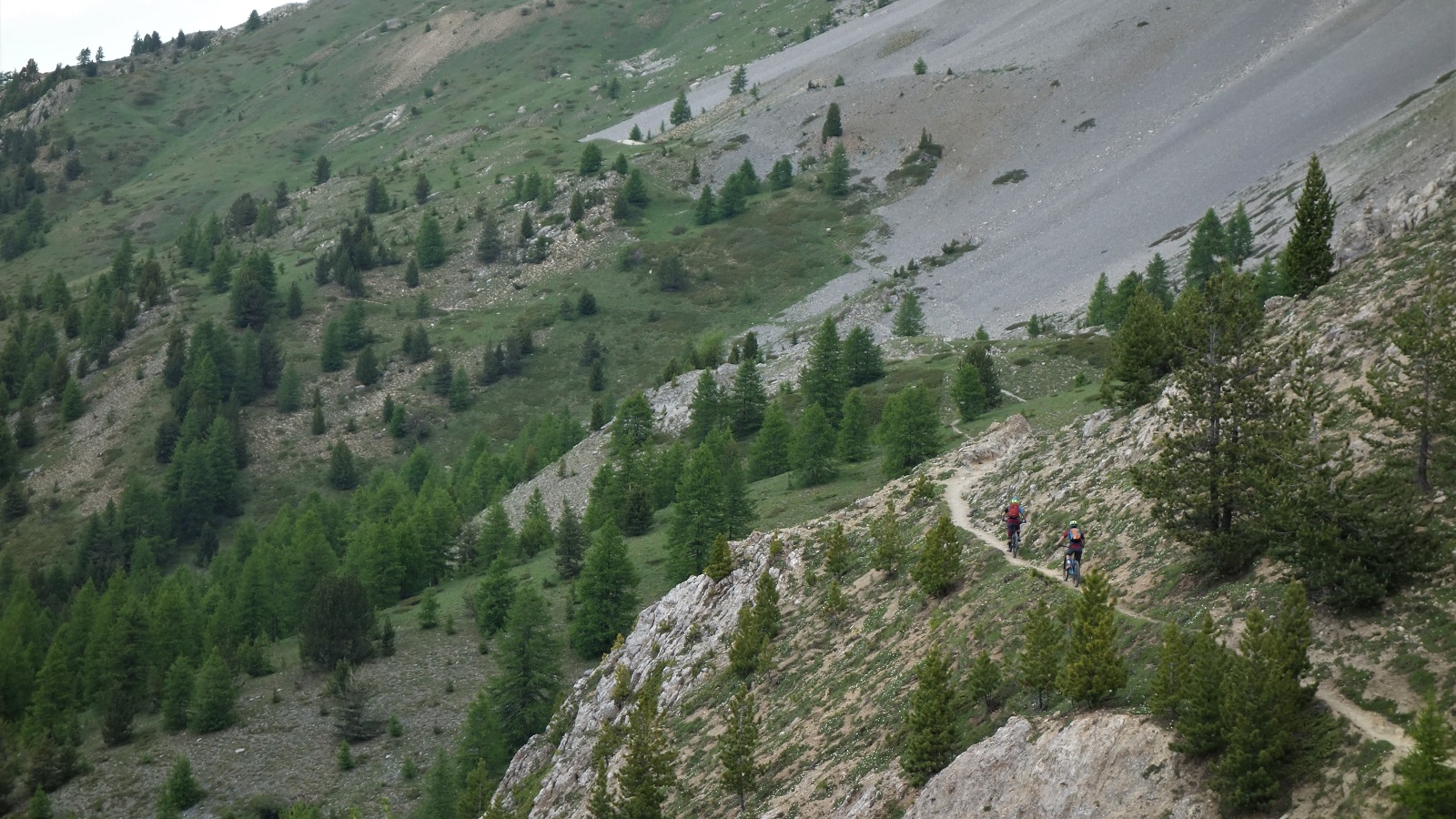 It ended back in the village, 10m from the ice cream selling gite. Result, best trail I'd ridden since yesterday.
We packed up the van and headed on out and up.
Camped nearly at the top of the Col Agnel, we were poised to be at the top of the climb in time to catch the light whilst getting started as late as possible. At nearly 2700m the air is pretty chilly and a little thin, so we were all a bit tired and grumpy by the morning. We pedalled up the last of the road towards Italy, then over bog, path and snow up to the Col Vieux and the col view.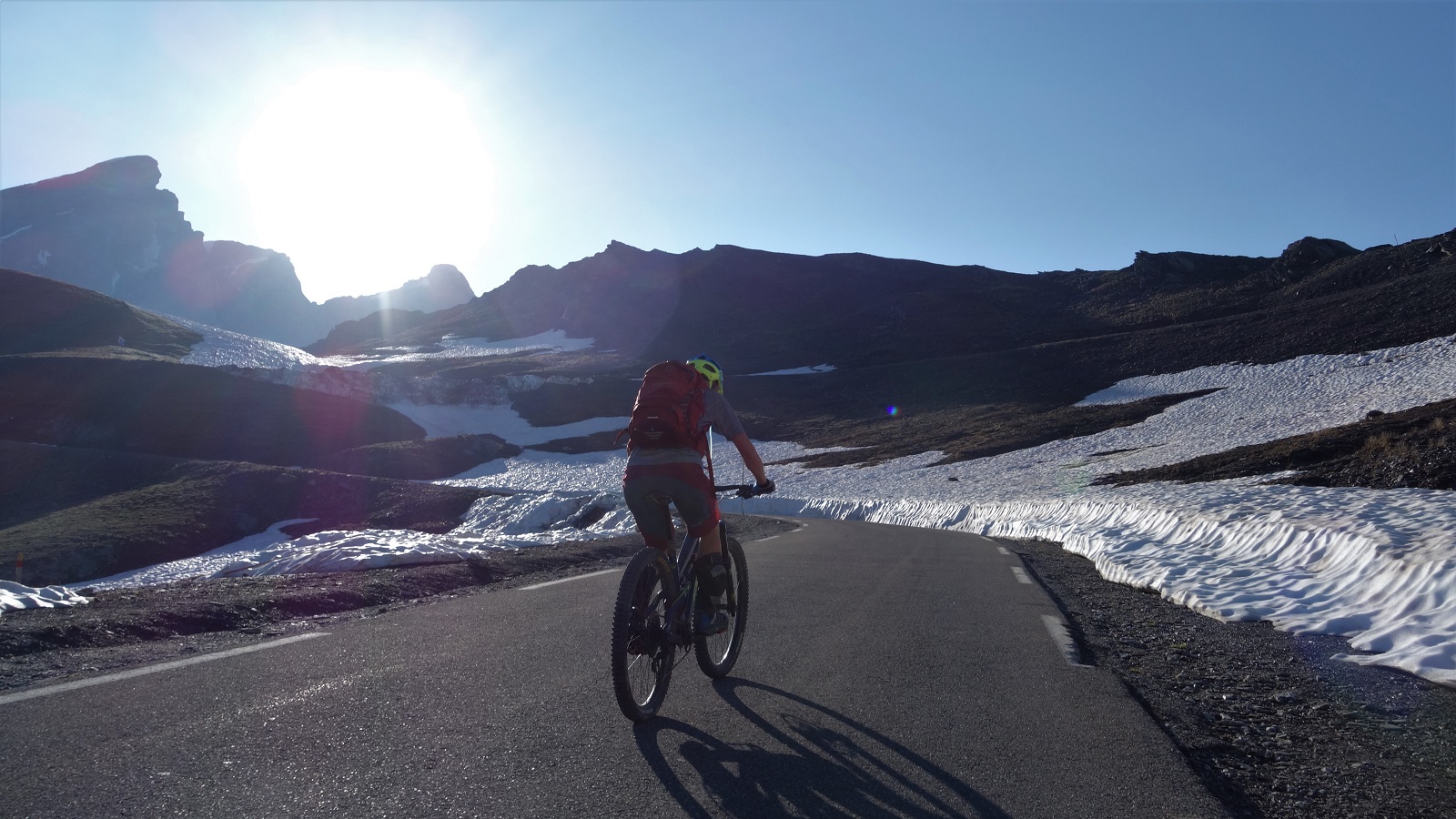 This last big trail was one Emily and David knew well, so the surprises were all mine on the way down and with about 1300m to descend there was plenty of opportunity to surprise. Even once we'd left the high alpine and settled into what felt like familiar Queyras flow territory the trail turned into a cobbled highway. Not one of your nice flat cobbled highways either, a wall to wall wtf of rounded stones at all angles and heights. Pick a line and stayed loose.
We cruised back into Abries where we'd left my car days before and headed for morning crepes only the cafe was closed, so coffee it is and on to the next village for a boulangerie lunch.
The weather hadn't quite broken yet, so why not try one last unexplored line highlighted on Emily's map. Traverse for 20 mins then fast fun through a burnt forest reclaimed by a carpet of flowers. But with the odd (very odd) slab and tech to keep you on your toes. Fitting end.
Driving home the weather finally broke. Not far up the road to Col d'Izoard the thunder started to be accompanied by lightening, the spots of rain became a torrent became hail. The road went white. Or yellowy brown. The Izoard is possibly the most beautiful col I've been over, but not in a storm when the slopes get washed across the road. Where were those 300 days of sunshine now?