There's not really much point to riding a bike for leisure*, but at least you can normally argue you're getting somewhere. A circular ride, not so much. A load of effort expended to end up where you started. But if I'm going to start criticising that, I'll quickly digress to ranting about the futility of human existence and the pointlessness of life in general, and I'm not going to bother because reading the news gives me more than enough things to rant and wave my hands about to.
Instead, embrace the futility. Enjoy the journey rather than the destination.
With two friends visiting and a good weather forecast we came up with a destination, Chamonix, and went looking for a journey.
As all 3 of us are now older than we've ever been before and have taken different journeys to get to where we're at, the analogies start flowing. Fortunately for you, the literary and film world are full of reunion journey stories which have been judged and ranked over time, so you can toddle off and enjoy them for a combined nostalgia-and-optimism-for-future hit. I used to work in sustainable transport, I've watched the response to the IPCC report. There is no optimism, there is no future.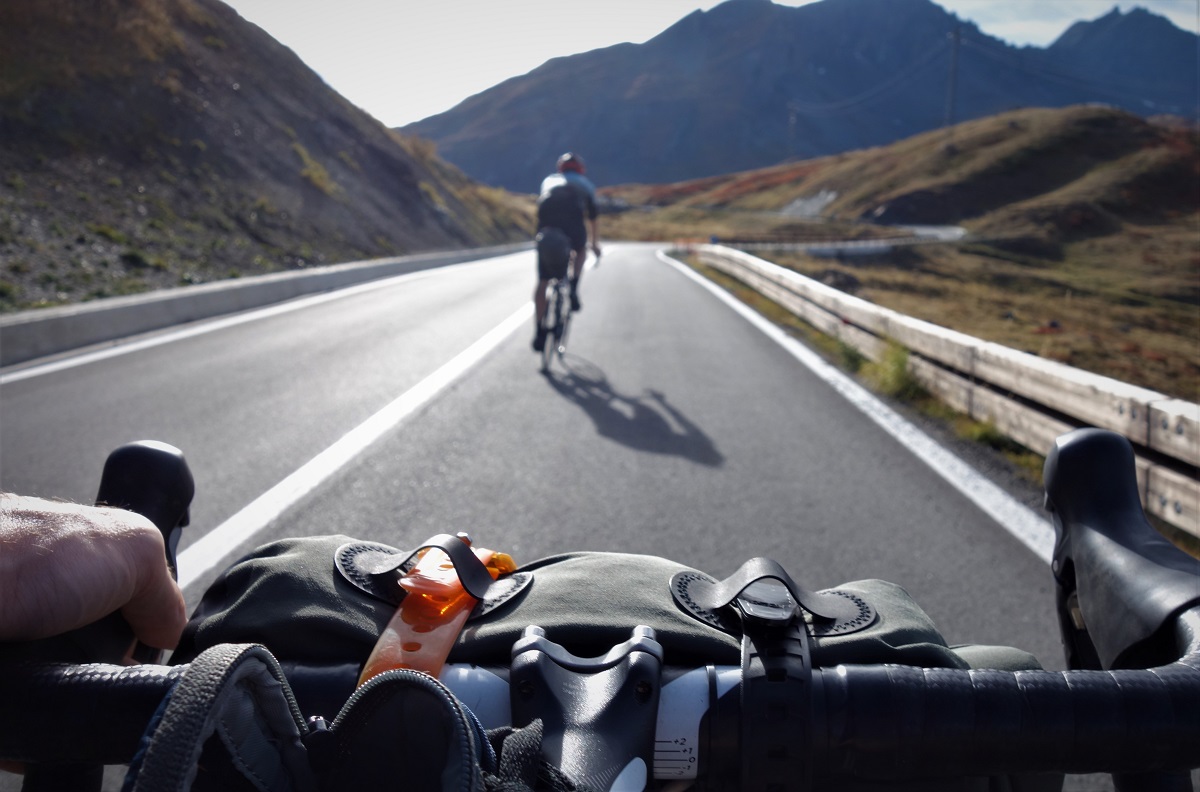 Where was I? Ah yes, biking. Road biking in particular. I've only road biked once before and that was 3 years ago with the same characters. But, things seemed to go quite well then and 1000 days is long enough to forget the bad bits and focus on the good, so we came up with something a little more challenging. (I should point out that Jim and I have some form in this field. After 1 semi successful day in a canoe on Rannoch Moor, a bog that seemed easier to cross by boat than foot, we decided to spend 5 days traversing Scotland by moor, loch and grade 3 rapid. What could go wrong? Lots.)
As we're all tertiary educated middle class types, forethought and research was done. We rolled out of Chamonix with a detailed plan that went something like: up, down, up, down, uuuuuuuuuuppppppppp, ddddoooowwwwnnnn, uuuuuppppp, dddooowwwnn, uupp, down, up, down up, down, up, with a bit of eat, sleep drink and take the piss out of each other added in to split things up. You'll notice that there was more up than down there. This is a problem with human power.
Things started well. Col des Montets arrives much easier on a road bike than a mountain bike. And 25c tyres kick the shit out of a super tacky minion for road descending too. Col du Forclaz arrived with a similar lack of fuss (if you exclude the detour to play in the anti tank bunker, we've not really grown up much. And to be fair, everyone thought humans were going to wipe themselves out during the cold war, and we somehow missed that, so maybe we will come together and avoid catastrophic climate change) and the tarmac descent to Martigny is way more fun than the 4×4 version.
Lunch, where we could sit and drink coffee, eat very sharp bread, and take the piss out of each other, then the climb to Grand col St Bernard. Grand is probably the right word for the climb, scale if not humour. It's like a really shit joke, Sajid Javid stand up quality. 'What's 43km long and 1900m high?' 'The climb to the Monastery'.
We were laughing at the start. No one was laughing at the end (actually we were laughing a bit in the middle too when Malcolm met the cheese vending machine). It really didn't help that there was a howling headwind coming down the valley. When drafting works at 7kph, you've got issues.
When I was planning the ride I'd imagined perfect alpine weather and sublime views of the Grand Combin to distract us from the numbing discomfort of a climb that drags on a bit in a car never mind a laden bike, but the weather hadn't read my mind and had gone all silent hill on us. By the time we crawled up to the Monastery you could hardly see the other side of the road. So this wasn't the time to discover that the Monastery that never shuts was locked up. And it wasn't just us. A random Italian family was trying with equal lack of success to find a way into the building.
Turns out we were all just a bit rubbish at opening the blast proof door. We got in, we had some religious tea and soon felt good enough to go back to dealing with the world.
Staying in a monastery does seem like a slightly odd choice I'll grant you, but the St Bernard monastery is a bit of an outlier. For a start it's at 2500m, so the views are quite good. Or would be if we could have seen much beyond the end of our noses. It's also a refuge, and at 50chf for bed n board, about as good value an option as you'll find in Switzerland. As an added bonus, it's the last few days of the col being open before its winter closure (which lasts until June, winter lasts about as long as the climb up here) so the refuge is dead quiet. We get an 8 person dorm to ourselves and with only 12 people around the dinner table and food cooked for considerably more, we eat well. This is good because Mal the doctor has concluded we are something like 3000kcal in deficit and need to eat more.
The second day was always meant to be the 'easy' bit. Start with a massive descent, 35km and 1900m, down to Aosta, go for cappuccino, pedal along the relatively flat roads along the Aosta valley, go for more coffee, pedal some more, coffee and food some more, before the one climb of the day, complete with more stops for coffee and topped off with a long descent down into France and food.
Simples.
And it kinda was. Our overnight fears of the damp roads freezing were unfounded, instead with 2 degree air temperature and 98% humidity it was only us that froze on the initial descent. After 15km or so of steadily losing height we got out into the sun and kept cracking on. And on. And on. Descending is fun.
Aosta city came as a bit of a shock. For a start it was flat rather than downhill, so we had to pedal. Then there were vehicles fleeing everywhere. And there were potholes. Still, it's no Glasgow and we were soon out of town and onto the first coffee stop.
Since we'd left Chamonix the day before we'd pretty much either been going up hill or down. There had been flat, but not very much. Now, with Mont Blanc in front of us and some caffeine in the belly, we were riding rolling flat roads. On the drops and in a line, road biking really started to make sense. You were putting effort through the pedals, no doubt, but not so much that you couldn't easily hold a conversation, and we were absolutely flying along. You just canny cover ground like this on a mountain bike. Tunnels and villages flashed by and we were at another selection of cafes for lunch.
The Aosta valley terminates with a bunch of big hills. The easiest way out is the Petit St Bernard pass. At 2188m the petit bit is questionable. Still, it's less than yesterday's climb and under blue skies and mid October temperatures it was hard to feel too intimidated.
What a stunning climb. I'm really not used to the idea of climbing being enjoyable. Skiing and mountain biking the climb is a means to the end, the destination is the down, but on such an efficient bike the switchbacks up through the trees with Dent du Geant and Mont Blanc peaking through the foliage, the rolling road passing small villages and tunnels in turn, the rise out of the treeline and into the alpine, the huge views as the col drew near. I was in a happy place.
At the col there was an open bar selling beer. Now all three of us were in a happy place.
The descent to Bourg St Maurice did nothing to burst my euphoric bubble. Descending first thing that morning on damp greasy roads hadn't changed my mind any on the idea that road bikes are rubbish for going downhill on. As La Rosiere came (rapidly) into view I still wasn't planning on putting drops on my Edit, but having abandoned MTB technique and channeled Sagan (not Froome) things were really clicking and the meandering road with massive sight lines was just flipping awesome riding.
What could bring us down? Potholes, that's what. Swiss roads were as impeccably smooth and clean as you'd expect from Switzerland. Italy seemed to have laid fresh tarmac earlier in the week in anticipation of our arrival. France hadn't got the memo. From the Col to La Rosiere had been ok going, but leaving La Rosiere things deteriorated. A lot. Individual potholes you can bunny hop easy enough, but what do you do when the road is one big pothole and your entire tyre is smaller than the tread on the real bike. Slow down and weave about like a drunk is the answer.
It wasnay all bad, but if the 73 could just re-lay the road for the next time I'm there then that'd be grand ta.
And with that done, our second nights accommodation came into view. Le Relais Camping and a Yurt. Because why not.
Reading multi day riding advice before our trip, the importance of a recovery drink as soon as possible after finishing each days ride was stressed time and time again. With the biggest day to come tomorrow we took this very seriously and headed straight into Bourg St Maurice to find a bar and marvel at the technological masterpiece that is the new Super U carpark.
We did plan to start early on Saturday. On paper (or on screen, doesn't sound quite the same does it) it looked easy enough, 2 cols and 2 smaller climbs spread over 120km, but everyone I'd chatted to said that this was the bit that kicked them in the arse. We'd fine out soon enough for one way or another but not before we'd tracked down breakfast, which turned out to be the best damn pain au chocolat I've had and a leisurely coffee. Leisurely was probably a mistake.
At 10 we were heading out of Bourg and starting up the climb.
At 11 we were still on the climb.
At 12 we were still on the climb.
It turns out the climb to Cormet de Roselend does go on a bit. Quite pretty though, and somehow I was still enjoying myself.
As seems to be the way of these things, the descent was about as long as the climb, and perfectly enjoyable too. Finally getting to go to Beaufort (which is the secluded French mountain town you imagine when you imagine secluded French mountain towns) and get a cracking lunch only added to my general good feelings about the world. And a nice shorter climb to go next too.
1000m of climbing is shorter than 1100m of climbing. If I was finding my minor errors in pre-ride map reading slightly painful, Jim's opinion of it was un typeable. My promises of a water fountain in every village weren't going down too well either, particularly when we had to detour downhill into Hauteluce to find one. No, there wasn't a downhill detour back up to where we left the route.
The Col des Saisies may have featured a bar selling carbonated sugar and a pumptrack (of course I did) but alas no sign to let you know where you were. As taking a photo of each col is the recognised way to navigate on a road bike we were left wandering about in circles trying to come up with a solution. Which was to stand in the carpark.
We were now 65km into a near 130km day and it was 15.30. Those of you with memory and maths skills will have deduced that we'd been on the go for 5 1/2 hours. It gets dark at about 19.30. Something somewhere wasn't going to add up. I checked my lights still had some battery in them.
Being at the top of a col meant we were going downhill again, which does wonders for your average speed if you can pay attention to the road rather than the scenery. Not only that but before long we were back onto kent roads, from near Flumet was ground we'd all covered before and somehow that makes it easier. Onto the uphill drag past Praz sur Arly and Megeve and we were again on the drops and battering through the distance. The long straights towards St Gervais felt easy as we cruised along at over 40kph. We might just manage this before it gets dark.
After getting stuck in traffic for a whiles we took a back road detour and freewheeled into Le Fayet, then struggled to accelerate from a standstill in the stiffest gear to make it to the tabac for another round of cocacola, 35km done in roughly an hour.
Dark of course isn't just about light. Mood and atmosphere also feature in the metaphor. Climbing the short way out of Le Fayet to Servoz may have been lit by the daylight, but the ascent was done in the dark. Road bikes don't like proper steep gradients.
The new Servoz road by contrast is cracking, a tarmac pumptrack of rolling fun and frolics through the woods and on to the start of the Vaudagne climb which, as you look at the dual carriage way cutting round the hillside with minimal height gain, feels just a bit unnecessary. It doesn't matter though. We could walk up this climb and we'll make it now before the sun set.
Rolling back along the road between Les Houches and Chamonix it feels like a lot more than 3 days ago we were heading in the same direction between Chamonx and Les Praz. A few hours later in the bar it feels like a lot less than near half our lives ago we all met in a halls of residence. Which all confirms that time is relative and non linear, despite non of us studying physics.
What of the literal journey completed? Another lap of Mont Blanc done, and again it's the company that matters, the bikes are just an excuse for the trip, cheers Malcom and Jim for the trip, what's the next one going to be?
For the rest of yous, how's this for an idea: Mont Blanc road trip…… Go play MTB at Chamonix–Verbier–Pila–La Thuile–Les Arcs–Megeve–St Gervais–Chamonix. And that's just the places less than 5mins detour to the base of the lift station and I've got a blog post for, plenty more to pick from just a tiny bit further out.
*As all leisure activities are pointless, as are all non vocational degrees.